Television blogger Paul Casserly says Danish show Borgen may well be the best thing that you have never watched.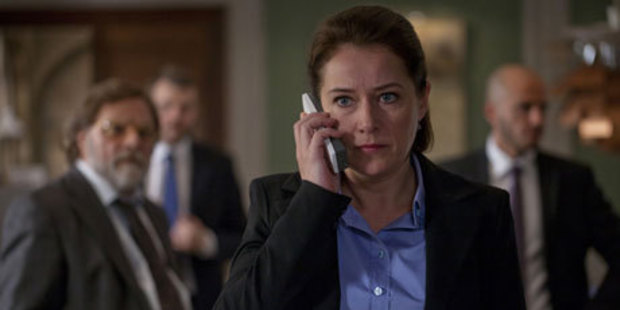 I had the same thought when Aaron Gilmore broke onto the scene with his alleged, "Don't you know who I am?" call.
Again the thought popped into my head when Gareth Hughes turned to his spin-doctor, Clint, mid-interview to ask, "Are we pleased?" about the attempted shafting of the MRP float.
Peter Dunne, up to his neck in penguin poo, same deal.
And then there's Winston, the one-man media machine. Last week's bizarre airport encounter with Campbell Live's Rebecca Wright was car crash TV at its best. I could not look away.
It was hardly a high point in our history of current affairs, but it was also a somewhat of win-win situation.
Wright looked good giving the old dog a hard time in the terminal, while the old dog's smiling face as his cab drove off revealed that he knew his people would have loved the sight of him telling off a jumped up upstart with no manners.
When Kim Hill can only sigh with pain following an encounter with the impossible Peters, you've got to hand it to Wright to even attempt to get the better of him. It makes pissing into the wind look easy.
Even the silent victim/villain in the Peter Dunne resignation saga, journalist Andrea Vance, brings the same thought to mind. The whirlwind of sexist BS from the sausage sizzle chorus of talkback hosts, columnists and other hypocrites reached fever pitch last week. She's a woman, so it has to be a "honey trap". How Tinker Tailor, how Paul Henry, how bloody 1950s.
Actually the point that I have been labouring to make is that all of these dramas and encounters, all of them remind me of a TV show and have me constantly saying the words, "That is soooo Borgen."
This may well be the best show that you have never watched, but you must. Borgen is a Danish series that deals with the drama created by MMP politics, of which the Danes are well versed. It's made by the people behind The Killing and The Bridge but it's actually the pick of the bunch, which pretty much makes it one of the best shows ever.
There are no serial killers, just MPs and their spin-doctors and the bottom feeding journalists that are attracted to these beasts. Any one of our stars of MMP could provide fodder for the show and sometimes you could be forgiven for thinking that they have.
Richard Prosser's anti Muslim ramblings are pure Borgen as are Winston's rumblings about Triads and the "super-city of sin".
In Borgen, NZ First is played by something called The Freedom Party, and their leader is just as impossible and entertaining and absurd as the former member for Tauranga.
The star of the series is a left leaning politician by the name of Birgitte Nyborg (the outstanding Sidse Babett Knudsen) who becomes the countries first woman Prime Minister.
Her mission is to maintain her integrity, to remain uncorrupted by the power. It's a riveting ride as she deals with family and factional fighting. It helps that she's sexy and just enough of a bitch to feel real. Her mothering ability makes you realise that Helen Clark may have been onto something not mixing politics with parenthood.
Clark, who must surely have been tipped off about the show must love it and see a kindred spirit in Nyborg as she struggles to pursue her progressive ideology while retaining the grip of power. All that, and having to deal with people like Winston Peters on a daily basis. Talk about drama.
If you ever enjoyed the West Wing or even The Newsroom, you'll love this. It's kind of a grown-up mash-up of both of those shows, given that other side to the Borgen coin concerns the machinations of the media, in particular the state TV channel which is called TV One.
But things are different in Denmark, quaintly current affairs still dominates prime time.
After two seasons I'm becoming addicted to sound of the Danish language, it's so weirdly beautiful, especially the words that sound like a recording of cat vomiting played backwards.
So far three seasons have been made, although word is that the third is also the last.
So where to see this programme? I asked SKy TV here in NZ if Soho might be running the show as they did with Forbydelsen (The Killing) but they sadly say they have no plans to at this stage.
DVDs or downloading are your options, I have seen copies for sale at Mighty Ape and at JB-HiFi. I'm guessing that specialist video rentals should also carry it.
But however you do, get your hands on it, it could well be the show to get you through winter. That's if the Triads don't get you first.