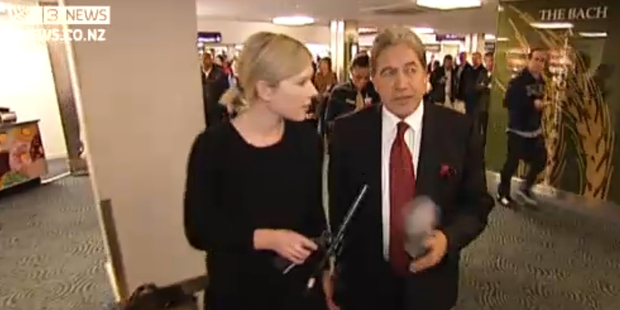 Campbell Live has been on a ratings high, providing advertising dollars to match critical acclaim. But in my opinion it's in danger of getting carried away with itself.
John Campbell showed understandable frustration when Winston Peters reopened the media circus over the Peter Dunne leak story. It was a here-we-go-again moment.
However, Rebecca Wright's Wednesday item about Winston Peters and his claims about Auckland being "sin city" seemed to show TV3 could match circus with circus, when she door-stopped Peters at Auckland Airport arrivals.
TV3 believes the belated taking to task of Peters was valid.
The perp walk is a standard piece of TV journalism. But the piece appeared to be some TV3 self-marketing for the feisty and persistent Wright.
DOG-EAT-DOG
Politics can be a dog-eat-dog world and sometimes the media can be the prey as well as the predator.
Some journalists, commentators and bloggers cast aspersions on the email communications and relationship between Peter Dunne and the Fairfax journalist Andrea Vance.
The fact that many of the emails have been kept secret from an inquiry into the leaking of the Kitteridge report on the Government Communications Security Bureau has left unanswered questions - not only about the relationship between the reporter and the politician, but also the way secrets are handled in Parliament.
Vance has been incorporated into the story, but you could argue that has been a positive aspect.
Media have not flinched from questioning one of their own and made the same, or even more intrusive, commentaries as they would for anyone else.
But Dunne, Vance and her employer Fairfax have unequivocally dismissed media implications that there was an unprofessional relationship.
Fairfax group executive editor Paul Thompson said he had been "surprised" by the commentary and the incorrect comments about how the story was obtained.
To recap: Dunne had to leave his ministerial post because he did not prove he did not leak the Kitteridge report, which was published by Fairfax a week before its release.
Intriguingly, media have been speculating about Vance's contacts which led to her getting the scoop.
Speculating about other journalists' contacts is an area traditionally off limits, in part because it can be perceived as sour grapes for missing out on a leak in the first place.
'FEMALE' REDUNDANT
Vance has taken issue with media questions about her relationship with Dunne, pointing out that they are sexist. In my opinion there is nothing wrong with asking the question - given Dunne's refusal to release emails between the pair. But some of the rampant innuendo seems hard to justify once there has been an outright denial.
The National Party-friendly blogger David Farrar suggested that Dunne was not infatuated or besotted - as other media have suggested - but that they may just be friends.
Last Sunday, on TV One's Q+A programme, commentator Michelle Boag - a former National Party president with close links to the Government - made some astonishingly direct assertions about how the story had got out, assertions that reflected poorly on Vance.
That night, TVNZ's One News noted - prominently - that Dunne had been talking to a "female journalist" with the inevitable implication that gender had been an issue.
Vance claimed on Twitter that she had been "defamed all day" on TVNZ.
The TVNZ editor of daily programmes, John Gillespie, said: "The story itself was absolutely valid. But the use of the word female in describing the reporter was both redundant and somewhat clumsy, especially since we ran a picture of the woman in question.
"We've had no complaints and in the overall scheme of things it's not something I'd lose sleep over, but it's fair enough to point out the word was unnecessary."
DILLY DALLY
Vance and Dunne have been unequivocal there was no relationship. But personal and sexual relationships have occurred before between journalists and Cabinet ministers, and probably always will.
Cabinet minister Murray McCully was in a relationship with NZ Listener political columnist Jane Clifton leading to her having to step down as head of the parliamentary Press Gallery. They are no longer together.
Former Deputy Prime Minister Don McKinnon wound up marrying journalist Clare de Lore.
The relationship affected her being considered as the host for Radio New Zealand's nine-to-noon job, an RNZ source said.
One parliamentary insider says there is nothing new in "romantic" relationships between journalists and politicians, and there have been numerous sexual dalliances.
According to the source they are an accepted part of parliamentary life and generally ignored by the Press Gallery.
It was perceived that when it came down to incidents involving politicians, journalists would not hold back on giving a fair report on people they were involved with, the source said.
REVAMP NEXT WEEK
The future of MediaWorks - including TV3, Four and half the country's commercial radio networks - should be clearer on Tuesday.
A major restructuring will be announced early next week, the Herald understands.
The big revamp is being led by debt-holding banks as well as hedge funds Texas Pacific Group and Oaktree Capital Management.
Early indications were for a debt-for-equity aspect to the restructuring. But that now appears to be less likely, raising the possibility there may be new equity holders in the company, which will continue to have a radio and TV arm.
This column reported two weeks ago that reality-TV queen Julie Christie and former SkyCity Entertainment chairman Rod McGeoch will each be involved in the oversight of the company.
NEW RNZ CEO
Radio New Zealand has hired Fairfax New Zealand editorial boss Paul Thompson as its new chief executive, adding to the newspaper company's upheavals.
Staff at the two organisations were told about the appointment last night, ending months of speculation at the state broadcaster.
Thompson replaces Peter Cavanagh, whose five-year contract ends in December.
Thompson - who is Fairfax's group executive editor, overseeing all editorial product including the Dominion Post, the Waikato Times and the Press - will be more engaging with staff than Peter Cavanagh.
A longtime Fairfax loyalist, his defection follows the promotion of Fairfax NZ chief executive Allen Williams to be managing director of publishing for Fairfax in Australia.
Thompson had been tipped as Williams' replacement in New Zealand but it appears he has opted for a change of media.
One question is whether Thompson, with his commercial media background, will change the culture of Radio New Zealand.
During a decade in the job, Cavanagh has been praised by the old guard for resisting board moves towards advertising and sponsorship on RNZ, particularly Concert FM.
But critics say he has added to a culture that is resistant to change at Radio New Zealand.
DR RUTH EXITS
New Zealand Film Commission chief executive Graeme Mason is tipped as a candidate to head the Australian film and TV funding body Screen Australia.
Current chief executive Ruth Harley's term ends in November and she told staff this week that she would not be standing again.
Mason is an Australian who joined the NZ Film Commission in March 2009.
Harley could not be reached for comment, but after five years it's not surprising she should not seek a new term.
Harley is a former head of the NZFC herself, and as a New Zealander she faced resistance from Australian producers.
It is not clear whether she and her husband - Michael Volkerling, former executive director of Te Papa - intend returning to New Zealand.
The two had made a formidable pair in the Wellington arts establishment.
As the foundation chief executive for New Zealand On Air back in the late 80s and early 90s Harley headed a body that maintained independence against the financial interests of the TV networks - an independence that has since been lost.