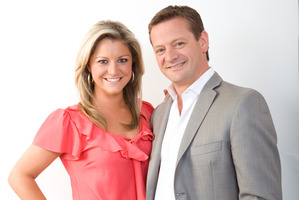 TVNZ's headline morning show Breakfast was forced off air after a contractor doing burnouts in the company's underground carpark set off a fire alarm.
Instead of regaling viewers from the studio, hosts Rawdon Christie and Toni Street apologised for missing their 7am news bulletin as fire engines converged on the broadcaster's Auckland headquarters.
The aspiring boy racer's antics filled the carpark with smoke, setting off alarms and an evacuation of all staff in the 7,800sqm site on Hobson and Victoria Sts.
The man even had friends in tow for his extra-curricular hoon. "I don't believe he was rostered on to a shift at all," TVNZ spokeswoman Megan Richards told the Herald on Sunday.
"He was accompanied by other people but the contractor has admitted culpability and he was the only one involved in driving the car."
TVNZ bosses were livid.
"It was most unfortunate and as you can imagine we are vastly unimpressed," Richards added.
She said TV One was off air for about 3 minutes and 22 seconds on Thursday morning. But the chaos disrupted or delayed a further four minutes of programming.
"It was a stupid and thoughtless thing to do and the consequences for us were expensive and unnecessary disruption," Richards said. "There are also invisible costs in moving viewership at a key news break.
"It's not an insignificant matter."
Sources said the man was a vision mixer. Richards said only that he was a technical operator.
His future job prospects at the station were dim.
"His freelance agreement has been terminated and he won't be re-employed by us," Richards said.
She said the incident was highly unusual. In 2009, a fire alarm interrupted Te Karere, forcing the network to cross to a BBC World feed.
The Herald on Sunday requested CCTV footage of the burnouts but the broadcaster declined.
The Fire Service was alerted to an event at TVNZ at 6.49am. A spokeswoman confirmed car burnouts caused the alarm.