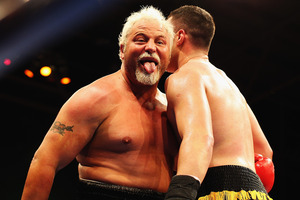 Francois Botha downed tequila shots during a boozey night out just five days before getting pummelled by rising boxing star Joseph Parker.
The White Buffalo hit the town last Saturday night, watching the All Blacks game at a Viaduct sports bar and having an estimated five shots of tequila and beer.
He carried on to Britomart venue 1885 where he was mobbed by fans.
In a result that confounded most boxing pundits, Botha was knocked out in the second round at Trusts Stadium in Auckland on Thursday.
Duco Events promoter David Higgins, who had invited Botha out for the night, denied he had drunk excessively.
"It wasn't over the top," said Higgins. "Francois is a gentleman. He had a night out and he was very, very good company."
Higgins said the boozey night had no bearing on the result. "He could have trained for a year and it would have been the same outcome."
A witness said: "He was a happy drunk. There were loads of people coming up to him and he posed for photos with all of them."
UniSports Sports Medicine physican Mark Fulcher said excessive alcohol consumption would cause dehydration, affect sleep patterns, and reduce concentration and energy levels for a few days.
"There definitely will be some effects, at a time when he would be wanting to peak with his training ... it's not the way he would have prepared to fight Tyson."
Meanwhile, Higgins has called on Sonny Bill Williams to agree to fight Parker or vacate his national title.
Higgins said he would pay SBW a "very high" six-figure fee and would fight him anywhere, anytime.