His role as billionaire playboy and comic-book hero Green Arrow has gained Stephen Amell fans here and overseas. He speaks to Scott Kara.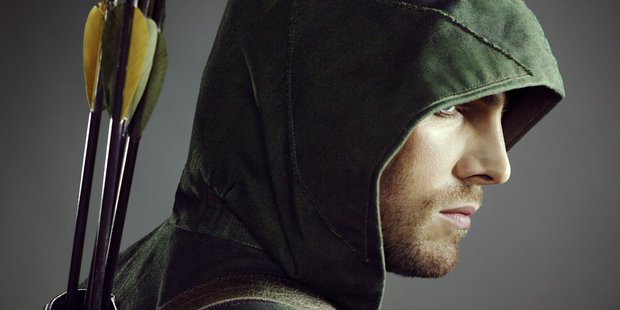 As breakthrough roles go they don't get much better than the one Canadian Stephen Amell scored last year. After a few bit parts and guest star roles the well-built and, fair to say, good-looking actor was cast as billionaire playboy and modern-day Robin Hood character Oliver Queen (aka the Green Arrow) in Arrow, which screens on Wednesdays on TV2.
The 23-part first season, which is up to episode seven in New Zealand, is proving a ratings winner here and overseas. A second season will screen later this year in the US.
Did you make bows and arrows as a kid growing up in Toronto?
No, I'd never picked up a bow and arrow until I started training for the pilot. I was really into professional wrestling. You know, late 80s, early 90s, I was right into the Ultimate Warrior and Hulk Hogan.
What makes a bow and arrow-wielding character unique in the comic book world?
There's something a little bit more precise about it, a little bit more civilised, even though you are going after the same thing that you'd go after armed with an automatic assault rifle. But also people can relate to it more because, and even though I didn't do it as a kid, I think more people who are watching the show have probably shot a bow and arrow than they have a gun. And it is having its cultural moment at present.
How does Arrow stand out from all the other bow and arrow films and TV shows in recent years?
I'd like to think he's the best shot. But then there's a great moment in episode 12 where Oliver is suffering the effects of something and he wants to go out and fight, and somebody says to him: "You can't even aim your bow and arrow", and he says: "I don't need the bow". And he goes out there and does it with his bare hands.
Arrow has been a hit, including here in New Zealand, so what has it meant for your career?
I was just excited as a young actor to be working, to be perfectly honest. I'd done a show in 2011 [Hung, in which he played a young male prostitute] for HBO, that wasn't renewed, and I was doing some guest-starring work on Private Practice, but this was my first audition for something that had a little bit of stability and I didn't think about it much beyond that. Beggars can't be choosers [laughs]. But once we got into it, and I realised the scope of it, I got really excited.
Oliver has been lost, presumed dead, on an island for five years. But one of the best things about Arrow is how, when he gets back to civilisation, he goes about creating his own legend.
He is the maker of his own destiny, and the cool thing is, as we move through the series, while we see him in the pilot we assume we're seeing the finished product of the Green Arrow, but in actuality we're just finding the iteration of him as this person and we're seeing how that iteration is built on the island. It's just a fun storytelling technique.
What is your take on Oliver, because he has inherited a lot of baggage from his father's dodgy legacy, and then there are the emotional ties to his ex, Laurel.
He's a little bit stubborn, a little bit myopic and unwilling to see things from anything but his point of view. I mean, there was a certain way he had to live to survive on the island; a way that he had to behave, and he's having trouble getting away from that and adjusting to being back in the real world, so he has a lot of growing to do still.
Were you a comics fan growing up?
A little bit of Superman and Batman. But no, it was more wrestling and I'm a huge sports fan. I still am. I was a huge Blue Jays [baseball] fan in Toronto, and the late 80s, early 90s was very much their heyday when they won a couple of world championships. So they kept me pretty busy.
Did you have to study the comics for the role?
No, because the pilot was all encompassing and it took care of everything I needed to know, initially. But then going into the series I got a big care package from DC Comics with a lot of our core source material, Green Arrow: Year One by Andy Diggle, and The Longbow Hunters by Mike Grell, and so I educated myself after the fact.
Is the Green Arrow a modern-day Robin Hood?
I guess the lazy assessment would be that he is robbing from the rich to give to the poor. But that's not really the case, because he looks at it like, "if you've got power you have to behave in a certain way and if you don't you're not above reproach - I will come after you".
So it's really anyone at any time and in any circumstance, and that keeps people on their toes I think.