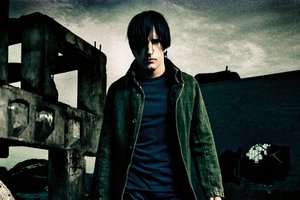 The first new single from Nine Inch Nails in five years has received mixed reviews online, with one commentator asking, "Where's the sadness?"
The band's front man, Trent Reznor, released the relatively upbeat single Came Back Haunted last week, the first single from the album Hesitation Marks, due out on September 3.
Billboard called Came Back Haunted "five minutes of irrestistable techno-funk," while the website mindequalsblown said it was "groovy" and "riddled with trademark Nine Inch Nails distortions and synths".
But reaction to the single on Facebook was swift and often critical, with many asking where Reznor's trademark angst and anger had gone.
"Not dark enough ... Come on Trent, where's the sadness?!" asked Vanessa Rodriguez.
"The lyrics suck. The synth sucks. If someone said he did this when he was a teenager long before (Nine Inch Nails's debut album Pretty Hate Machine) I'd believe them," wrote Sonya Trejo.
But others were more positive, complimening the progression from the band's last album, 2008's free download The Slip.
"This sounds like it combines the sounds of the where the last few albums have been going and the simple synth melodies on pretty hate machine. It feels like old NIN with a newer NIN we have yet to hear. I like it. I want more. Awesome work as usual, Trent," wrote Dennis Mengelt.
Zoya Huschtscha: "The best thing about NIN is that their music ripens with age ... Like a fine wine they just get better with time."
Listen to Came Back Haunted below and post your own thoughts in our comments section:
- nzherald.co.nz