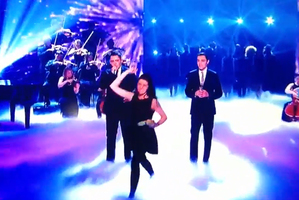 It promised to be an exciting night, but Simon Cowell could not have imagined he would become the spectacle.
Britain's Got Talent had a security lapse yesterday when a woman made her her way on to the stage and pelted the music mogul with a carton of eggs.
Opera singers Richard and Adam Johnson were approaching the climax of their performance of To Dream the Impossible Dream when the smartly dressed woman walked out from behind the chorus line and started her attack.
The Britain's Got Talent team said the egg-thrower was Natalie Holt, 30, a member of the Welsh singers' backing group, who was said to have been turned down for last year's series.
In a statement issued by a Britain's Got Talent spokesman, she said: "I want to apologise to Richard and Adam for overshadowing their performance.
"I've never done anything like this before and in hindsight I have realised it was a silly thing to do."
The spokesman said police were called because of her "misguided actions" but no further action would be taken against her.
Security were quick to react, escorting her off the stage, but only after one of her missiles hit Cowell on his jacket.
Cowell reacted calmly, joking to the audience he thought the woman was throwing sandwiches and it was part of the performance.
He said: "I sent a tweet out saying I don't like eggs, and I really don't like eggs now."
After the Welsh brothers' performance, presenters Ant and Dec said: "We'd just like to point out that was not part of the performance. Well done for carrying on."
Fellow judge Alesha Dixon apologised to the group for the interruption and Amanda Holden was less polite, calling the woman a "stupid cow".