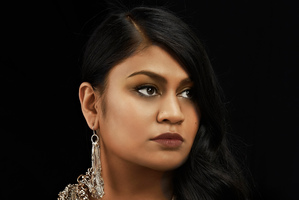 Kiwi singer Aaradhna Patel has set a record at this year's Pacific Music Awards; winning every award she was nominated for - all six of them.
The 29-year-old was the clear winner last night, picking up Best Female Artist, Best Pacific Urban Artist, Best Song, Best Album and Best Video for her clip to hit song Lorena Bobbitt.
She also won a special Radio Airplay award for her No1 track Wake Up. The catchy tune - which can be heard on some television ads - went platinum early this year, just before she signed a multi-album deal with US label Republic Records.
Last night, she thanked fans for their ongoing support, as well as the label that got it all started for her - Dawn Raid Entertainment.
The songstress acknowledged that it had been a long time coming, having taken a break over the past four years.
Talking about her latest album, Treble & Reverb, Aaradhna said she was inspired to write new music by listening to tracks by the late Amy Winehouse.
"I used to go to her Back to Black album and I'd repeat it all day because I connected with all her music.
"The thing I liked about it was that she didn't care about what other people said. She really spoke her mind - that's what I wanted to do. I wanted to make music that I could really say what I wanted to say."
The other multiple winner last night was reggae star Swiss - real name Pepa Manu - who beat hip-hop artist Savage and Samoan singer Vaniah Toloa to score the Best Pacific Male Artist award, and the People's Choice Award.
Winners
Best Pacific Female Artist: Aaradhna.
Best Pacific Male Artist: Swiss.
Best Pacific Urban Artist: Aaradhna.
Best Pacific Group: Tomorrow People.
Best Pacific Song: Wake Up by Aaradhna.
Best Pacific Language: Tofi o Tamatane by Vaniah Toloa.
Best Pacific Video: Lorena Bobbitt by Aaradhna.
Best Pacific Album: Treble & Reverb by Aaradhna.
Radio Airplay award: Wake Up by Aaradhna.
People's Choice Award: Swiss.
Most Promising Artist: Cilla.
Lifetime achievement award: Mavis Rivers.