Inundated with work, songwriter Eden Mulholland is busy trying to keep all of his customers satisfied, writes Lydia Jenkin.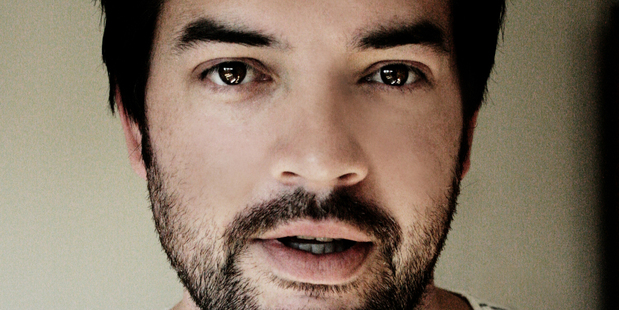 Eden Mulholland is one of those musicians who is so talented he seems to have music dripping from his fingertips. But despite many successes, he's yet to become a household name. His band, Motocade (which includes his brother Will), got plenty of radio spins with tracks like Holy Moly and Oldest Trick in the Book, and had songs featured on Home and Away.
His other band, the Mots (which is co-fronted by other brother Jol), are indie favourites for their rare, rollicking performances, and Mulholland has made an impressive name for himself writing music for a range of dance and theatre shows - so much so that it's often a full-time job.
For many years he's balanced these different musical identities seemingly with ease, but with his soon-to-be released 12-track debut solo album, Feed The Beast, he's come up with a triumphant combination of both his pop prowess and his more abstract creative abilities.
Fans can rest assured that Motocade is still going - they've got a new album ready to release in the near future - and this is simply an alternate outpouring of Mulholland's endless musical ideas.
Some credit must go to his parents, what with so much musical talent in one family. Jol released his solo album in 2011, along with the Mots' self-titled 2008 album, as well as fronting Gasoline Cowboy, playing with Liam Finn, and producing records for a long list of local luminaries; their dad was in a band, their mum played piano, and it seemed only natural for all the kids to pick up guitars and start writing, which they did.
But, as a child, Eden was more interested in dancing.
"I did a lot of ballet when I was a boy, and the best thing about it was being on stage. I was never the most dedicated when it came to practice. I just wanted to be on stage."
Wanting to write songs and play music developed almost in tandem to his dancing.
"I wasn't really heavily into listening to music when I was younger. I'd just listen to what my brothers and Dad listened to - Dire Straits, Bob Dylan, Paul Simon. It wasn't really until I became a dancer that I paid more attention to music, and I didn't even really fancy myself being in a band until my early 20s."
It was after he'd finished his performing arts degree that the seed of Motocade was planted.
"I was a bit sick of dancing, and went 'I'm going to move to London and hang out with my mates'. And that was a bit of a disaster, but it compelled me to start writing music in my bedroom, and when I came back to New Zealand I thought, 'I'll start a band with my brother Will'. So I did."
Of course, his love of dance soon led him back to writing music for dance performances too - choreographers like Malia Johnston, Sarah Foster, and Michael Parmenter would commission works, and it wasn't long before Auckland Theatre Company came knocking, too.
Rather than keep all those tasks separate in his head, he found they would often merge and influence each other, feeding his inspiration.
"Those different threads of my personality have woven themselves together and I don't think I could have one without the other. Writing music for other people has become so much a part of me that I really like the way other people can influence what I write."
With this album, which was recorded with the help of Neil Baldock at Roundhead Studios, he's taken past ideas from his dance composition works as the basis, and shaped them to suit a live pop band.
"I've songified them," he laughs.
"A lot of the elements of theatre and dance music are too abstract for live bands, unless you wanted to be Sigur Ross or Brian Eno. I still have tendencies to have a clear message, and write pop music. I'm still too young to want to be abstract [laughter] - it'll happen one day, though. You start liking the sound of chairs scraping."
The result is a diverse but convincing set of songs with a deep sense of rhythm and propulsion. There are straight-up pop songs like the first single, I Will Echo, which evolved out of a 20-second loop, or the beautiful piano-based Blueprint, and then there's Beside Itself , which sounds like Thom Yorke meets MIA, all industrial electronic beats and spoken word/rap. Perhaps unsurprisingly, they're all songs that make you want to move - you can imagine a bit of dancing might go on during the writing and recording.
"My wife likes to dance to them. [As a professional dancer] she's got a really strong affinity for music that makes you have a visceral response like that, which is great for me."
To be so creatively prolific may seem exhausting from the outside, but it seems to come very naturally to Mulholland.
"I have to write. I have to feed the beast," he laughs.
"That's what that title is about really. You can read that in a universal way, not necessarily specific to me. But the beast could be either bad or good, and you sort of have to do it either way."
Who: Eden Mulholland
What: New album Feed the Beast out June 7
Where and when: Touring New Zealand in July, including a show at Backbeat Bar in Auckland on Saturday, July 6. See edenmulholland.com for more dates.
- TimeOut