A hardcore tale of life in an Aussie women's prison is being reprised. Scott Kara talks to the Kiwi actress taking a lead role.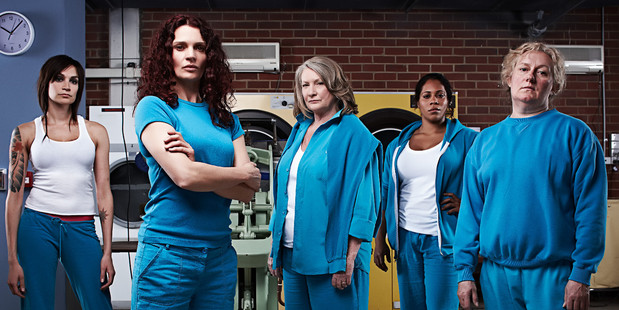 Say the name Bea Smith to a certain generation of TV watchers and they're likely to shiver with fear. She was the menacing, hard-as-nails "top dog" of Wentworth Correctional Centre in long-running Australian series, Prisoner, from the early 80s.
Sydney-based Kiwi actress Danielle Cormack remembers the show well. "It was on in the afternoon. It preceded the kiddies' programmes," she says with a laugh. Its 2.30pm time slot was odd because - back in those days at least - it was a hardcore programme.
"It was pretty groundbreaking because it aired subjects people were too shy to confront back then. Seeing women fighting, blood, abortion, and things that had never been on TV before - and there was a raw quality to the show," says Cormack on the phone from her home in Sydney.
The actress stars as Bea in Wentworth, the new, and fair to say sexier and glossier reboot of Prisoner, which starts on TV2 at 9.30pm on June 10.
Cormack's character is very different from the intimidating and revenge-obsessed inmate originally portrayed by Val Lehman because although Wentworth is set in modern-day Australia it centres on Bea's early days in prison.
"When the name Bea Smith gets bandied about I think people have a great fear and great respect. But I had to let that idea of Bea go," says Cormack. "I didn't feel any responsibility towards Prisoner as such. Because [in Wentworth] Bea has never been to prison before, she's been living at home in a very violent and aggressive relationship, she's a mum, and so she's a far cry from the Bea Smith people will recall from Prisoner.
"There are lots of different types of people who end up behind bars. They're not all bad people, and so it was really important to find that contrast. So don't expect Bea Smith, top dog."
And also, says Cormack, the old show, though "still brilliant", doesn't quite have the impact these days. Wentworth, on the other hand, is gripping, confronting, and at times raunchy. For instance, the first we see of beautiful, ruthless, and wannabe top dog Franky Doyle, she's getting it on with another inmate in Bea's cell.
"She's the best character by a long shot," says Cormack. "Characters who don't make any excuses for themselves are always the best."
Franky is one of the many old characters who have been reprised for the new series, along with Lizzie Birdsworth, an alcoholic who's inside for manslaughter but is now a respected peer worker, and Doreen Anderson, a wild child-turned-mum whose young daughter, Kaiya, lives with her inside Wentworth.
"You've got a bunch of really likeable characters in a situation where they can't go anywhere so it's a pressure cooker situation. It's high drama," says Cormack. "You've got people who walk on the other side of the law, and people are intrigued by life behind bars regardless of whether it's a dramatisation or in reality."
Playing Bea is yet another lead role Cormack has scored since moving to Australia in 2010. "It's feeling comfortable here," she says with a laugh.
Having made her name back home in shows such as Shortland Street and Xena, and films The Price of Milk and Topless Women Talk About Their Lives, across the ditch she has starred in popular comedy-drama Rake, as 1920s Sydney crime queen Kate Leigh in Underbelly: Razor, and now in Wentworth.
In the lead-up to the series, Cormack talked to wardens and inmates about their experiences of prison, which gave her a real - and often brutal - insight into life behind bars. She visited a women's correctional facility in Melbourne where many of the prisoners live with their daughters, similar to Doreen in Wentworth.
"I met some amazing women. And meeting some of the women in there with the children was really interesting. Of course, it's been very controversial, and it was really interesting hearing people's thoughts about whether mothers should be able to have their kids inside with them. But I think many people also forget that maybe it's safer for the kids to be inside with them because they just don't have the support outside. Because they've got themselves to the point where they can't survive in the outside world without doing something that renders them a criminal."
She also discovered male prisons are much easier to work in than the female ones because "the women are much more wily and dangerous".
"Men just use their brawn, whereas there is a psychological aspect that comes into play with women. And inside you're dealing with a lot of mental health issues because a lot of the women have been in abusive domestic situations. There's a lot of drugs. And a lot of it comes down to making the right choices, and many of them aren't bad people, they just haven't made the right choices."
Bea is still on remand and yet to be charged with attempted murder. Cormack says there is a big difference between remand prisoners and those who have already been sentenced.
"The remand inmates have a completely different energy and when I spoke to the wardens they said they were the ones you need to watch out for because they are in a high state of anxiety."
But although Bea is intensely fragile and anxious when we first meet her, there is also a steely strength and determination that comes out as she is seen adjusting to prison life, and as the back story about why she is inside is revealed through a series of violent flashbacks.
Meanwhile, adding to the escalating tension is the battle for the top dog position between Franky and head honcho Jacs, a tough and uncompromising crim in her late 50s who's served half of a 14-year stint for murder.
"But Bea's not interested in that," says Cormack. "She just wants to survive, keep her head above water, and the most important person in her life is her daughter - so she's just staying focused on her."
"But she's had a pretty hard life so far so she's pretty savvy in terms of surviving in prison."
Not that Bea's looking like a survivor at the end of the first episode when a riot breaks out and she is left with blood on her hands.
"It really ramps up," says Cormack. "It takes you on a pretty fast ride and there are some interesting twists and turns as well. By the end of the series people are going to be pretty assaulted I think - but in a good way."
What: Wentworth, the modern-day reboot of 80s TV show Prisoner
Who: Danielle Cormack, as Bea Smith
Where and when: June 10, 9.30pm, TV2
- TimeOut