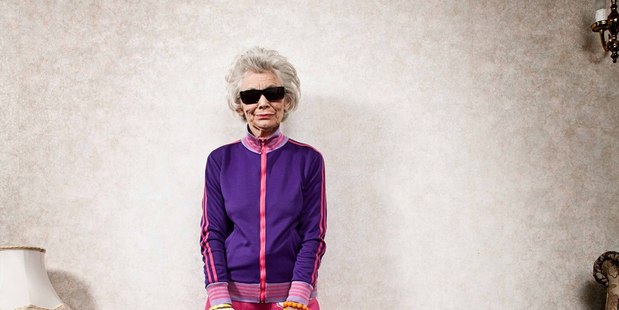 Pick of the week: THE 80s
Shoulder pads, perms, leg warmers, giant cellphones - they're a few of the images that spring to mind when we think of the 80s, but in this new eight-part series, National Geographic delves a little deeper to look at technological changes, cultural movements, counter-culture movements, the rise of capitalism and consumerism, and the ways in which global and local politics shaped everything from sports matches to icecream.
Sure it was a decade which had "a lot of sizzle, and a lot of flash" as Michael J Fox put it, but it was also a great time for risk-takers, entrepreneurs, and revolutionaries. The hippies became yuppies, and all sorts of political and cultural walls came down.
The first episode looks at the mood in America when the 80s began - still feeling a little scared, a little dark, a little pessimistic as a hangover from the 70s, facing the rising intensity of the Cold War, and a struggling economy - and the events which helped to change that outlook. The US beating the USSR ice hockey team at the 1980 Winter Olympics, and taking a gold medal, was a great start for the country that was still a little obsessed with communism.
Then Ronald Reagan was voted in as President in 81 and both optimism and patriotism rose. With a little help from Jane Fonda, women discovered exercise. They began joining gyms or working out at home. Fonda's workout videotapes helped to drastically increase the number of homes with VCRs and the popularity of videos.
Then there was the Sony Walkman, which made everyone feel like they had their own personal live soundtrack, starring in their own movie. It was a revolution of personal entertainment, and it didn't stop there. MTV became a phenomenon, and "I want my MTV" a favourite catchphrase.
And though the decade began with a real schism between the world of rock music and black music (even Michael Jackson), it wasn't long before Run DMC was knocking down that door with rap, and a collaboration with Aerosmith on Walk This Way.
Ambition was cool, computers landed on desks, and superstars were made. David Hasselhoff, Joan Collins, Calvin Klein, Linda Evans, and Oliver Stone are just a handful of the interviewees in the show. It is, rather strangely, narrated by British actors Richard E. Grant and Sean Bean and hearing a couple of English accents dealing with very American-focused topics and events is the only thing that's slightly askew with the series.
Future episodes look at everything from fashion to football, Wall Street to cocaine, Hollywood to the fall of the Iron Curtain, all set to a nostalgic soundtrack of hits.
Where: National Geographic Channel
When: Sunday, 7.30pm
What: A decade of revolutionaries, rapid technological and cultural change
Wildlife pick: THE POLAR BEAR FAMILY & ME
It's not really surprising that experts know so little about polar bears, considering they live in some of the most inhospitable areas of the world. And though they look cute and cuddly as cubs, they are not to be toyed with when they grow up.
But in this three-part documentary series, wildlife film-maker Gordon Buchanan gets up close and personal with these animals as he follows a family made up of baby Mikki, his brother Lucca and mother Lyra. In the first episode, Buchanan documents the family's journey across vast distances in Norway during spring.
It's a perilous trip, with Mikki having only a 40 per cent chance of surviving his first year in the brutal environment. Further episodes will follow the family's movements in summer and autumn.
When: Tuesday, 8.30pm
Where: TV One
What: Tracking the bear
Doco pick: MANHUNT
With Game of Thrones taking a one-week break, this HBO-made documentary traces the CIA's 20-year-long pursuit of Osama bin Laden. It was a hunt that resulted in a raid on Abbottabad in Pakistan on May 1, 2011, which nabbed the terrorist in just 40 minutes.
However, this documentary, which for the first time talks to the insiders who led the CIA's hunt, starts by going back to tell the story of a mostly female group of CIA analysts known as the Sisterhood.
They had discovered the threat bin Laden and terrorist organisation al Qaeda posed, but when they warned the powers that be in Washington they were ignored. But that all changed in 9/11, when the hunt for the world's most wanted man started in earnest.
When: Monday, 8.30pm
Where: SoHo
What: The 20-year hunt for bin Laden
Drama pick: CASTLE
It took four long seasons for NYPD detective Kate Beckett to admit she had feelings for cheeky consultant and famous novelist Richard Castle.
However, having finally taken a leap of faith at the end of last season, what happens when they wake next to each other?
That's where season five starts on Monday night.
Initially they decide to keep their relationship a secret from colleagues and family, but it's not long before complications arise.
Meanwhile they still have the Maddox-Smith case to deal with, with the threat by Maddox to kill Beckett hanging over them.
Then there's the question of whether or not Beckett will be returning to the team after resigning following her suspension for witholding case information.
When: Monday, 9.30pm
Where: TV One
What: Is it happily ever after for Castle and Beckett?
Drama pick: THE BLETCHLEY CIRCLE
They made a formidable team as World War II code crackers at Bletchley Park headquarters, working out the messages used by the German military. When the war is over, the four intelligent, inquisitive women of this new drama series are expected to merely return to normal domestic life. But when a series of murders take place 10 years later in London, the four women - who feel that the police are overlooking some patterns - reunite to investigate the murders, trying to get one step ahead of the killer, who has a fondness for codes.
The series has a strong British cast with Anna Maxwell Martin (Becoming Jane) as methodical Susan, Rachael Stirling (Tipping The Velvet) as streetwise Millie; Sophie Rundle (Episodes) as Lucy, who has a photographic memory, and Julie Graham as the methodical Jean.
When: Thursday, 9.30pm
Where: Vibe
What: Cracking the murderer's code
- TimeOut