Graham Norton has left the crass ribaldry of his early days behind to become one of the best, writes Sarah Rainey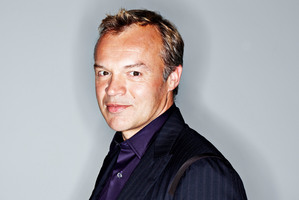 Most people have never heard of Graham Walker, a failed actor from a small town in Ireland. His father, Billy, was a Guinness salesman, and his mother, Rhoda, was a member of the local Mothers' Union.
As a teenager, Walker studied English and French at University College Cork but left, having had a breakdown during which he refused to leave his room and collected dead flies in a saucer on his window sill.
After running away to a commune in San Francisco, he returned home and enrolled in drama school. It was then that he discovered there was already a "Graham Walker" on the books of the actors' union, Equity. So, he decided to change his name.
That day, Graham Walker became Graham Norton. Thirty years later, there's not a person in Britain who hasn't heard of him. His face is beamed into three million homes every Friday night, with The Graham Norton Show now in its 13th series on BBC One.
Though not quite as big in New Zealand, the cheeky chap is one of the best reasons to stay in on Friday night. Last year it was one of TV3's highest rating shows.
On his red sofa sit the world's most sought-after celebrities: recent guests have included Tom Cruise, Gwyneth Paltrow, Daniel Craig, Judi Dench and Hugh Jackman.
Norton also writes a hugely popular agony uncle column for the Telegraph and his Saturday morning Radio 2 show pulls in some of the highest audience figures on the airwaves.
It wasn't always this good for Norton. For 10 years he was the face of near-the-knuckle comedy on Channel 4, a far cry from the prime-time slot that has made him a national treasure. But fortunes have since turned in his favour.
Recent polls put Norton top of the list of Britain's funniest comedians and of celebrities that members of the public would like to invite home for dinner. Not bad for a man who once asked a female guest to fire ping-pong balls from between her legs. So what, exactly, has been the making of Graham Norton?
After a successful stand-up show at the Edinburgh Fringe in 1992 and a bit part in the much-loved sitcom Father Ted, Norton's break came in 1997 when he filled in for Scottish comedian Jack Docherty on his Channel 5 chat show. His one-off appearance was such a success that Norton won the best newcomer prize at that year's British Comedy Awards.
The following year, Norton moved to Channel 4, where he dominated the chat show circuit for five years. Despite repeated attempts by the BBC to poach him, the comedian stayed with the network, seeing it as the "natural home of smutty humour".
He relented in 2005. But the Beeb didn't quite know what to do with this guffawing, cavorting Irishman. Instead of fronting his own show, he was given presenting jobs on Strictly Dance Fever and Andrew Lloyd Webber's How Do You Solve A Problem Like Maria?
In 2007, The Graham Norton Show aired first on Sundays, before being transferred to the coveted Friday night slot, replacing chat show behemoth Jonathan Ross in 2010. Norton quickly proved his worth. Where Ross' questions were tasteless and ill-judged, Norton's style was light and playful. This wasn't a host who would ask David Cameron obscene questions about Baroness Thatcher. Nor was he the type to make lewd remarks about Sienna Miller or cheap, crude gags at the expense of Girls Aloud.
Instead, he asked Johnny Depp about his favourite sandwich. He talked to Madonna about naming his dog after her; Cameron Diaz about her pet snake; Sir David Attenborough about his fitness regime.
Norton built his brand on harmless, PG humour, providing just the right amount of clever innuendo with those arched eyebrows and that hiccuping laugh.
Norton's chatty style can, at times, be his downfall. His desire to keep guests on side means his questioning can occasionally be less than searching - see Tom Cruise's appearance on the show last month (Scientology, anyone?) - or even unctuous (he described Katie Price as "one of the most successful authors in the country").
His ability to keep control can waver, too, as seen when Jude Law and Robert Downey Jr appeared to turn their backs on the sofa's other guests that night.
But, time after time, Norton is the one who asks the questions that no other chat show host would dare dream up. His research is meticulous, whether it throws up a bizarre hobby or childhood memory.
He forces ludicrous stunts on normally stiff-lipped megastars. Who else could get Cher and Dawn French to sing karaoke to Believe, Benedict Cumberbatch to hug his fans, or Helen Mirren to snog an American actor?
It's light years away from the point-and-laugh, crass ribaldry of his early days. Norton, who recently turned 50, is now a master of his craft.
What: The Graham Norton Show
Where & when: TV3, tonight, 8.30pm