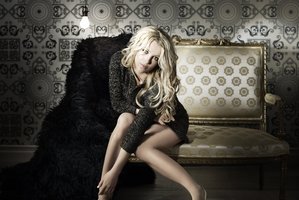 Britney Spears will stay in a luxury penthouse when she begins her Las Vegas residency.
The 31-year-old singer is set to play a number of shows at the US gambling capital's Planet Hollywood venue later this year and all her needs will be catered to when she stays in the luxury accommodation.
A source said: "They're making her this ridiculously out of control penthouse suits so she doesn't have to travel anywhere. It's going to have a gym, a media room and at least four bedrooms."
Britney's team confirmed the residency earlier this year, but after her appearance on talent show The X Factor - where viewers complained she seemed drawn - friends are worried if she will be able to handle the pressures of performing all week, and think she would be better off at home with sons Sean Preston, seven, and Jayden James, six.
A source said: "I'm not sure just how good an idea Vegas is for Britney right now. If she can't handle 'The X Factor' - how will she be able to perform five days a week in Vegas?
"She's a homebody, she loves her sons and has her daily routine. At this time, she may need to concentrate on her health and happiness - not rebuilding her career."
- BANG! Showbiz