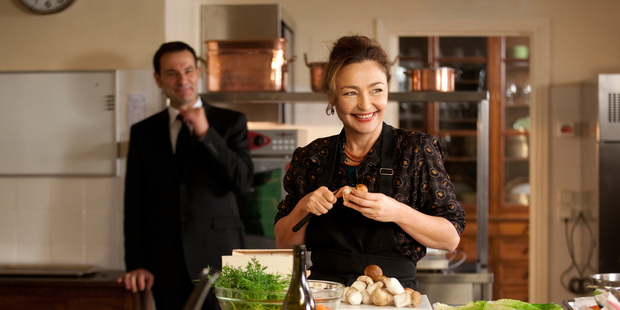 The story of Daniele Delpeuch, a provincial French cook whose touch with truffles and foie gras elevated her to the position of personal chef to Francois Mitterrand is much blander than the excruciatingly mouthwatering food we see her cook.
Hortense Laborie (Frot) is Delpeuch's dramatic alter-ego in a film that is remarkably limp, considering that it comes from the pen of Etienne Comar who turned recent history into compelling drama in Of Gods and Men.
At the recommendation of Michelin-starred superchef Joel Robuchon, she takes up residence in the Elysee Palace and honours the president's expressed desire for "la cuisine de grandmere" - simple, homely food - though what she comes up with is a cut above what my grandmother used to cook. Her independence gets up the nose of the palace's head chef and the president's minders, including calorie-counting medical advisers.
The film has the feel of being strangled by its determination to be faithful to the facts rather than using the set-up as the jumping-off point for an "inspired by" comedy drama.
Matters are made worse by a framing story (shot in Iceland) which shows us Delpeuch's later life, as cook in the French Antarctic; it plainly foreshadows the outcome and disrupts the flow of the main plot.
An Australian documentary-maker (played by a Spanish actress whose Ocker accent sounds like an Afrikaaner impersonating a Hungarian with a blocked nose) provides accidental humour.
Frot's performance is effortlessly charming and her scenes with Mitterrand (played by non-actor d'Ormesson, a writer who was one of the president's most outspoken critics) are heart-warming. And if the film doesn't get close to Tampopo or Babette's Feast as a great example of food porn, it would certainly be inadvisable to go on an empty stomach.
Stars: 3/5
Cast: Catherine Frot, Jean d'Ormesson, Hippolyte Girardot
Director: Christian Vincent
Running time: 91 mins
Rating: M (offensive language). In French with English subtitles
Verdict: A slightly bland movie about delicious food
- TimeOut