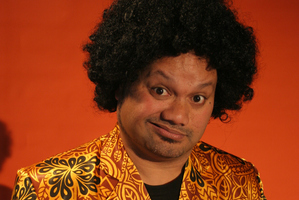 What sort of voice should we read your answers in?
A politician's voice. Loud and arrogant.
Are you worried about how you'll come across in print?
Not really. If it doesn't turn out how I like it I can always take a shot at the media in Big Balls.
Describe your show in 10 words or less:
A prison-inspired tale about having Big Balls. Very funny.
Is there somewhere we can see your work online? If not, why?
Type Kila Kokonut Krew or Vela Manusaute into YouTube, and I'm sure you'll find something. If not, just type Big Balls into Google Images and that should keep you amused.
What does your mum think of what you do?
She has no choice but to support it.
Eight minutes into your show, all going well, what should be happening?
You'll either be getting abs from laughing so hard or you'll be walking out 'cause I've offended you. No refunds allowed so I'm all good.
Where are you usually when ideas or jokes come to you?
Getting my kids ready for school.
What's more important to have as a comedian, youth or wisdom? Discuss.
Definitely wisdom. You cannot beat experience. I've been in this game a long time and I've learned to pace myself and control the audience. Balls get bigger as you get older.
Who's your comedy hero, and why?
My dad - he always had the best jokes when us kids would complain about having no food.
BIG BALLS
Where and when: The Loft at Q Theatre, May 7-11
- TimeOut