Classical comic Rainer Hersch talks to Lydia Jenkin about his orchestral manoeuvres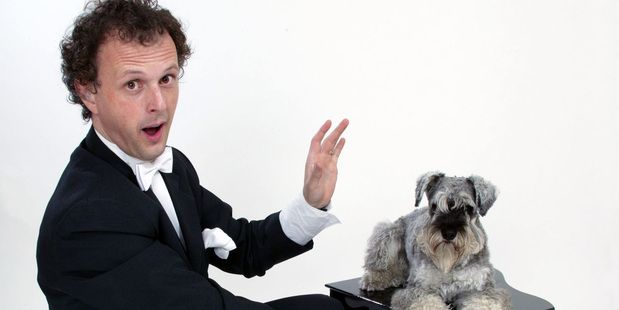 The words "musical comedy" often lead people to think of performers like Flight of the Conchords, or Tim Minchin - guys who sing funny songs, who take their witty observations of life and set them to music in a fashion that heightens the ha ha factor.
But British musical comedian Rainer Hersch doesn't write funny music, he uses music as a comedic subject - classical music, to be precise - pointing out what's funny about the genre and its conventions.
Having been concurrently interested in both comedy (Monty Python sketches were favourites) and music ("I'm not quite sure why it was classical music. I guess it was my own sort of form of teenage rebellion, because I didn't know anyone else who was interested in it.") since a young age, it wasn't until he quit his job as a touring manager for the London Festival Orchestra, and took to the comedy circuit in the 90s, that he realised he could combine the two passions.
"It came time to write a new show in 1996, and I thought 'Why not write a show about classical music?', because it's what I really know.
"So I wrote the show called All Classical Music Explained, and it's a sort of bluffer's guide to music. They're not meant to be sort of 'fnar fnar' music jokes. It's stand-up comedy where the theme happens to be classical music, but the audience doesn't have to know anything about classical music."
It proved very popular, and he hasn't looked back - which begs the question, what is it about classical music that makes it a good source of jokes?
"I think it shares quite a lot with another great stand-up comedy theme - sex, in that it's full of taboos," Hersch laughs. "It's full of things that people don't talk about. There's loads of people who listen to it, and don't ask questions, because they're embarrassed to appear ignorant.
"I actually have a joke along those lines: classical music is like sex in that you don't know how long it's going to last, you don't know what you should be thinking about and, of course, it can be embarrassing if you start clapping in the wrong place.
"Plus, classical music fancies itself so much that it's ripe to be made fun of, and should be taken down a peg or two."
He has performed all over the world with many renowned orchestras, and the show has continued to evolve in the intervening years as Hersch attempts to answer questions such as "What do conductors actually do?" and "Is the triangle hard?"
One question the show has yet to answer decisively is which musicians are the best at poking fun at themselves.
"Percussionists are always, always, up for it," Hersch laughs. "They seem to have a mischievous streak. And I suppose perhaps it's because of the variety of what they perform.
"Everyone is going to notice the cymbal crash if you do it at the wrong time, or cock it up, so they're used to being exposed, and same with the brass. Brass players are also often very pleased to take the lead.
"Of course, you might get some very low-key percussionists, and some very funny second violinists, too. You never know."
Hersch is doing two different shows in New Zealand - one with the Auckland Philharmonia Orchestra, and the other is a solo show titled Rainer Hersch's Victor Borge.
"The first review I got for All Classical Music Explained mentioned this guy Victor Borge, and made a very flattering comparison of us. The funny thing was, when I read that review, I didn't actually know who Victor Borge was."
Borge was a much loved Danish-American entertainer - a classically trained pianist who made a name for himself blending stand-up and piano tunes, and performed for nearly 70 years, until his death in 2000. Early on in Denmark, he liked to poke fun at the Nazis, but after he fled to America, he taught himself English, and turned his jokes towards wider human experience. Wordplay, physical comedy and the lampooning of any classical pretensions made him "the funniest man in the world" according to the New York Times in 1956.
"When people kept comparing us, I got very interested in his story," Hersch explains.
"His autobiography is written in Danish, so I had to get someone to translate it and read it to me. They came to my house and read it to me over 12 visits but that developed into the show. It's kind of a narrated story of his life. It's got dramatic elements, and I swap between being me, Rainer Hersch, the narrator and playing Victor."
Of course, he also watched as much footage of Borge as he could find - to pick up his distinctive voice and mannerisms, and to learn his routines, which Hersch has freshened up a little for the 21st century, but remain timeless in their hilarity.
"When I first wrote the show I remember I was meeting a friend of mine in a cafe, and I asked him, 'Is this still funny? I think it's funny, but do you think new audiences will find it funny?' And him saying, 'It actually is'.
"So re-imagining his work is a great pleasure, and I love bringing him to new audiences."
Who: Rainer Hersch
Where and when: Comedy Chamber at Auckland Town Hall, Rainer Hersch Meets APO, May 12, 3pm Rainer Hersch's Victor Borge, May 2-4 and May 6-11, 7pm (May 5, 3pm)
- TimeOut