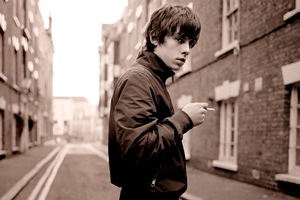 Jake Bugg - arguably the hottest newcomer in British rock right now - has confirmed his first New Zealand show.
The Nottingham teenage singer-songwriter will play the Powerstation on July 30 as part of his Australasian foray in the wake of his acclaimed 2012 self-titled debut album. The record went straight to No 1 in Britain in October, beating out X Factor heavyweight Leona Lewis and knocking Mumford & Sons off the top spot.
In the past year Bugg has toured America with Noel Gallagher, supported the Stone Roses, Lana Del Rey and Example. Two weeks before his Auckland show Bugg will be the main support act for the Rolling Stones at the band's mega-concert in London's Hyde Park.
Bugg has been been widely heralded as everything from an antidote to plastic pop to the East Midlands' answer to Bob Dylan.
But, as Bugg told Britain's Daily Telegraph: "Bob Dylan's cool, you know, he's great, but he's not a major influence."
Bugg has also made headlines for his supposed feud with boy band One Direction, after he called for an end to the group's comparisons to the Beatles.
One Direction members Niall Horan and Louis Tomlinson both hit back, prompting speculation the feud was contrived as a publicity stunt, which Bugg denied.
"It started because someone said they're like the Beatles. What the f***? It's just ridiculous to compare them to the Beatles.
"It's almost too stupid a comparison to even bother arguing with. I wasn't looking for attention. Someone asked my opinion and I gave it."
Raised on a council estate, Bugg started out playing bass in a cousin's band, and soon progressed to writing songs, citing the Beatles, Jimi Hendrix, Donovan, Johnny Cash and the Everly Brothers as inspirations. He uploaded some songs to the BBC's "Introducing" scheme in 2010 and by June 2011 was playing in the Introducing tent at the Glastonbury music festival. A record deal soon followed.
The resulting album, with its observations about working class life set against a rustic guitar-framed production, made many a reviewer's best-of-2012 list.
Said TimeOut's Chris Schulz in his review: "Forget about Justin Bieber - Jake Bugg is what the kids should really be listening to."
Tickets for the Powerstation show go on sale on Thursday May 2 via Ticketmaster.
- TimeOut