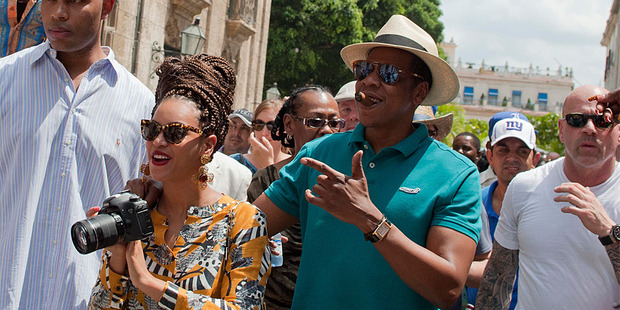 Beyonce Knowles and Jay-Z received permission from the US government to celebrate their fifth wedding anniversary in Cuba because it was deemed a "cultural trip", sources say.
The couple jetted off to the communist-led Carribbean island last week to mark their fifth wedding annivesary., despite a long-standing trade embargo preventing US tourists from visiting the country.
After learning of the trip, Florida Republican Representatives Mario Diaz-Balart and Ileana Ros-Lehtinen sent a request to the US Treasury asking for information regarding the type of authorisation Beyonce and Jay-Z received to make the trip.
Treasury is reportedly still investigating whether the artists were given clearance.
However a source said the 31-year-old singer and the 43-year-old rapper's holiday was fully licensed because their trip included a number of cultural activities, including meeting with Cuban artists and musicians, listening to live music in local clubs, dining in private restaurants and visiting a children's theatre.
The trip was also approved because it was about them having a "people-to-people" experience and did not involve typical tourist excursions like going to the beach.
President Barack Obama has instituted more flexible rules about travel to Cuba for groups of students, academics, journalists or members of religious organisations with the aim of increasing "people-to-people" contacts.
John McAuliff, executive director for the US Treasury Fund for Reconciliation and Development, voiced his support for the couple's visit, saying: "It's hard to imagine a more people-to-people contact visit than the scenes witnessed last week on the streets of Havana with two of the United States' biggest music stars wading through crowds of fans they never knew they had."
They were previously reported to have dined at La Guarida restaurant, where the crowd outside called their names until Beyonce waved from a balcony.
Waitress Silvia Fernandez said: "She was beautiful, without a drop of makeup, very natural. What happened with the people was incredible."
During their three-day stay on the island, Beyonce visited a children's theatre group and the Contemporaneous Dance Company of Cuba to attend some informal rehearsals.
- Bang! Showbiz