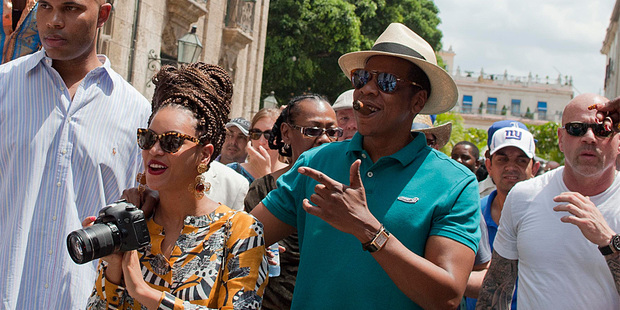 Republican lawmakers have asked for an investigation into why Beyonce and her husband Jay-Z were allowed to allegedly breach a trade embargo to visit Cuba for their wedding anniversary.
The musical power couple were mobbed by dozens of well-wishers while dining at the famed restaurant La Guarida and strolling through the streets of Havana for their fifth wedding anniversary last week.
Representatives Ileana Ros-Lehtinen and Mario Diaz-Balart of Florida say the visit was in breach of a 53-year-old trade embargo that bans all US tourism in Cuba.
They have penned a letter to the US Treasury alleging the pair's visit will be used by the Castro regime for propaganda purposes.
"The restrictions on tourism travel are common-sense measures meant to prevent US dollars from supporting a murderous regime that opposes US security interests at every turn and which ruthlessly suppresses the most basic liberties of speech, assembly and belief," it says.
Ros-Lehtinen and Diaz-Balart are Republican representatives from South Florida, which has a high population of Cuban exiles.
Jay-Z and Beyonce have been closely linked with Barack Obama, with the latter famously lip-synching the US national anthem at the president's second inauguration.
Obama has loosened the terms of the US trade embargo on Cuba, with trips now restricted to religious, academic and cultural exchanges.
It is not clear with the couple's visit would have breached those conditions.
- nzherald.co.nz