Doctor Who is back, with a foe and a new assistant, writes Jennifer Cockerell.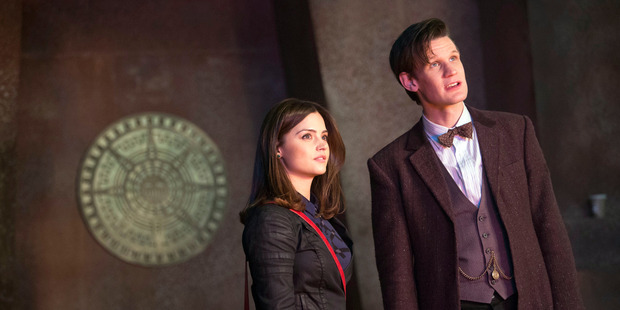 Actor Matt Smith says Doctor Who fans can look forward to it being the "biggest, best, most inventive and most exciting year for the show" as it celebrates its 50th anniversary.
The first episode of the new series screens tonight and sees the Time Lord defy gravity by roaring up the side of London's Shard building on a motorbike.
A special 3D anniversary show, which gathers some former Doctors and companions, will also be broadcast in the UK in November but Smith and co-star Jenna-Louise Coleman, who plays his latest assistant, are remaining tight-lipped about what viewers can expect.
Smith said he clapped when he read the script.
"It sort of does what it says on the tin, you won't be disappointed," he said.
"I think it's hilarious, I think it's epic and I think it's fast and I'm telling you nothing more, but you will not be disappointed. I think it's going to be the biggest, best, most inventive and most exciting year for the show and I think this script delivers on all those points that you want it to for where the show is at this time, it's brilliant."
Coleman said: "It pays homage to the last 50 years of the show and kind of really celebrates that, but at the same time as looking forward."
The Bells of St John is described as a modern day urban thriller and sees the duo battling a new adversary, the Spoonheads, against a backdrop of London landmarks including Westminster Bridge and the Shard as they discover something sinister lurking in the wi-fi.
"It's sort of Doctor Who meets the Bourne Identity with motorcycles," Smith said.
"We've got Celia Imrie being saucy and sexy, we have got aliens in your wi-fi, Westminster, the Shard, London - present day, with the Tardis in the middle of it."
He said he thought Coleman had made a "brilliant" start in her role as Clara Oswald. "She's inventive, she works tirelessly hard. And I'm really proud of what she's achieved.
"After the Ponds I think the doctor was a little blue, and I think she's reignited his curiosity in the universe and her impossibility has sort of awakened his mind and his soul, and I think that's something that we'll see grow and evolve as the series continues."
Coleman said: "It's such a unique job. I can honestly say there really is no job like Doctor Who. You can be a big kid at work and run down the corridors being chased by monsters and the scripts are just absolutely fantastic."
On Smith: "He's just an absolute genuine joy, he's been absolutely so supportive and totally and utterly there for me and he's a really good friend."
Executive producer and lead writer Steven Moffat said the new series would see Doctor Who's biggest secret revealed. "We're not kidding, we are actually going to do it, we're going to reveal his biggest secret."
What: Doctor Who, new series
When: From 8.30pm tonight
Where: Prime
- AAP