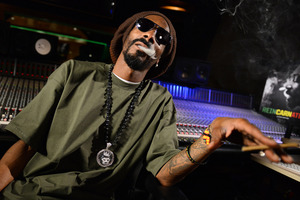 Snoop Lion (formerly Snoop Dogg) doubts homosexuality will ever be accepted in the hip-hop industry and fears Frank Ocean's coming out will do little to change prejudice in the rap world.
The Gin and Juice singer recently spoke out in support of gay marriage, but tells Britain's The Guardian he is convinced the rap industry as a whole is too "masculine" to embrace homosexuality.
"I don't have a problem with gay people. I got some gay homies (friends)... People who were gay used to get beat up. It was cool to beat up on gay people back then," he told the newspaper.
"But in the '90s and 2000s, gay is a way of life. Just regular people with jobs. Now they are accepted, not classified. They just went through the same things we went through as black."
When asked whether Frank Ocean's public admission about his sexuality showed progression in the hip-hop industry, Snoop Lion was doubtful.
"Frank Ocean ain't (sic) no rapper. He's a singer. It's acceptable in the singing world, but in the rap world I don't know if it will ever be acceptable because rap is so masculine. It's like a football team. You can't be in a locker room full of motherf**king tough-a** dudes, then all of a sudden say, 'Hey, man, I like you.' You know, that's going to be tough."
- WENN