When the Twilight author needed a director for her new movie franchise, she looked no further than Kiwi Andrew Niccol, a real-life alien, writes Michele Manelis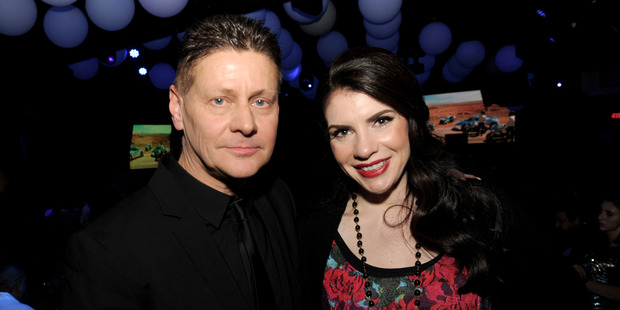 Expatriate New Zealand director Andrew Niccol was apparently the perfect man to helm the second Stephenie Meyer film franchise.
"He's very in touch with his feminine side." says Meyer. "He just gets it."
Of course, he's done sci-fi before in Gattaca and In Time, among other high-concept films and scripts for others including The Truman Show. And it might help that if you're directing The Host - Meyer's invasion of the bodysnatchers for the Twilight set - you know what it feels like to be an alien.
Niccol does.
"I remember vividly, coming to the US and getting my Resident Alien Card; only in America would they regard you as an 'alien', but I was kind of proud of it." He jokes, "I was like, 'Alas. They know who I am.'
"I realised I've spent more time out of New Zealand than in it and when I go back there, my accent is now hybrid, so I am an alien even in the place I was born.
And I love that; I love to be an alien everywhere," he says. "Americans don't accept me, the English didn't accept me, and now I am not accepted by my own people."
Niccol adapted the screenplay from Meyer's novel. "I don't think in terms of demographics, I just try to tell a good story. But yes," he concedes. "I think this film will appeal to a broader audience."
Based on Meyer's book of the same name, the story is set in a bleak future in which parasitic aliens named Souls invade earth and inhabit human bodies, erasing the original personalities in the process.
It stars Saoirse Ronan (Hanna), as Melanie, whose will is too strong to be overtaken; she learns to co-exist with the good-natured alien within. But her dating schedule is soon complicated by two strapping young men, played by Max Irons and Jake Abel.
Says Niccol: "I wasn't even sure I was writing science-fiction. I suppose I'd call it social science-fiction; it's not space fiction but I think it's just easier to call something about tomorrow from today, science fiction. It's a Trojan Horse approach where you wrap it in a futuristic setting.
"What I love is that there's romantic love in this story, but there's also this greater love about co-existing with another species from another world. So I think there are grander themes here. Some people just go to the romantic love, but others might go for the bigger ideas."
Meyer came up with the original story, which was first published in 2008, on a cross-country drive.
"I was on a road trip through the desert. It was very boring, and I always tell myself stories when I am bored because it's not good to read while you're driving," she jokes, dryly.
"There were a lot of story ideas that went through my head when I was on the road that day but this was the one that had some real meat there and I knew I could do something with it.
"As soon as I got out of the car, I scribbled it down so I wouldn't forget."
She's promised there will be more Host stories but possibly doesn't need the money too soon with the Twilight phenomenon having grossed more than US$2 billion worldwide.
And she has had a movie to deliver - Meyer also produced The Host, which meant she had the pick of just about any A-list director.
"Andrew was my first choice from the beginning," she says. "I always joke that there was no Plan B with Saoirse but there really wasn't a Plan B after Andrew, either. We got lucky on this movie that all of our A-game people came to play."
The movie also stars John Hurt and Diane Kruger, but the responsibility of whether it succeeds or fails falls on the shoulders of 18-year-old Irish actress Ronan, who plays dual personalities.
"I've been following Saoirse personally for a long time, since Atonement and The Lovely Bones, but Hanna was the clincher for me," syas Niccol. "She can do all of it; she can do drama, but she can also kick butt. She can make you cry and also jump out of a window," he laughs.
Meyer adds, "People always talk about there being so few roles for women, and I used to joke with Saoirse and say, 'Not only do you have one of the best roles for women, you have two of them'. And even her antagonist [Kruger] is a woman. So we are redressing the balance."
As the linchpin of the movie and the centre of the love "quadrangle", Melanie will face comparaison with Kristen Stewart's Bella in the Twilight love triangle. Says Meyer, "Well, the characters are completely distinct people. And as for Kristen and Saoirse, they're both actresses and they are of a similar age when they started, but that's where the comparisons begin and end."
Who: Andrew Niccol and Stephenie Meyer
What: The Host
When: Opens at cinemas today
- TimeOut