A quick word with Lana Parrilla, who plays the Evil Queen/Regina in Once Upon a Time, a series which combines the fantasy world of well-loved fairy tales with modern American suburbia.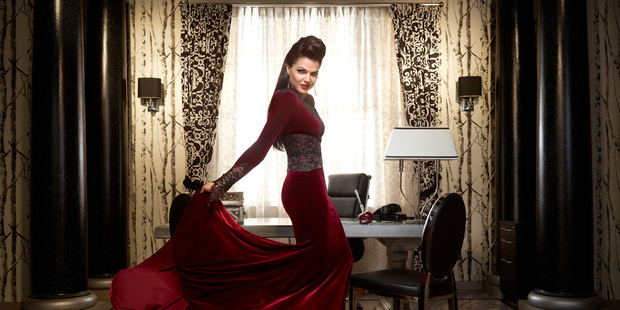 Were fairy tales a big part of your childhood?
They were, yeah - Little Red Riding Hood and Jack and the Beanstalk I remember best. Also, one world that really fascinated me more than any was the underwater world of the ocean, and I loved those kinds of stories: Mr Peabody and the Mermaid, and The Little Mermaid.
And were you ever interested in the villains?
I don't know if my parents did the right thing, but I used to see all sorts of scary movies growing up. The villain that scared me the most was Freddy Krueger. I can still scare the crap out of myself thinking about him. And I really enjoyed that growing up, I liked being spooked. I guess it was just a matter of time before I got to play a villain myself. It's funny though, because as an actress I think I was drawn to playing heroes, the woman who saves the day, not the villain, but I think on this show, playing Regina, I've been able to do both.
Is it challenging to play a character the rest of the cast have a love-hate relationship with, while still making her relatable?
It is a challenge, but I try not to judge her actions, or why she does things. Because I think even though a lot of what she's doing is evil or misguided, ultimately she's doing it out of love, or sometimes out of desperation. I can't really play her thinking "God, I'm so evil", I have to think of it as fighting to get her son Henry back, which is a positive thing, even if she's going to go as far as she can to do it. She is nasty though, the way she speaks to people, and the things she says, but that's what's fun about her too.
You hadn't done much in the fantasy genre before, was that something that attracted you to the show - the costumes, and sets, and having powers?
Well, it's funny, because I didn't know that Regina would have all these magical powers, I knew that she was a sorceress, and I knew from the tale of Snow White that she made magic potions, but I didn't know she'd have fireballs, or be able to disappear. I think she is a very human Evil Queen throughout the series really, despite her powers. All the characters are more human than we've ever seen them before.
That's partially the point of an adult series about fairy tale characters isn't it really, that we get to see them in a human light, and we get to unravel their tales, find out their backstories?
Yeah, that was certainly what struck me, reading the lines of Snow White and Prince Charming and the Evil Queen, and thinking, they might be famous characters, but you don't have to play it like a caricature; we can present them as real people with real problems, and their stories aren't arbitrary, they're based on human experience. You know, the Evil Queen's hatred of Snow White does have something to do with vanity, but it's not just about her beauty - the reason she wants to kill Snow White is because she thinks Snow is responsible for killing her true love, which is a complex and twisted situation itself.
We've had a few hints that your interactions with Mr Gold/Rumpelstiltskin will go further this season, what's it like working with Robert Carlyle?
It's such a joy, I adore him. He's become a close friend, and there's nothing better than to create with someone who you truly care about, but also someone I look up to. He's been a great mentor, and someone who's just fun to play with. The other day, we were talking about what they might do with our characters' relationship, and saying "it could go in this direction, or that direction" - it seems like there's still endless possibilities. One thing you will see soon though, is how the Evil Queen and Rumpelstiltskin originally met, and what that relationship meant for both of them. That's definitely something to look forward to, because there is so much history between them.
* The second season of Once Upon a Time screens on TV2, Thursdays at 8.30pm.