You'd hardly call comic Paul Ego the quiet achiever of hit local comedy 7 Days. More like the very tall, very loud achiever. Yet he's the 7 Days' regular we know the least about. Greg Dixon asks him who he really is, only to learn the shocking truth about how Ego got into comedy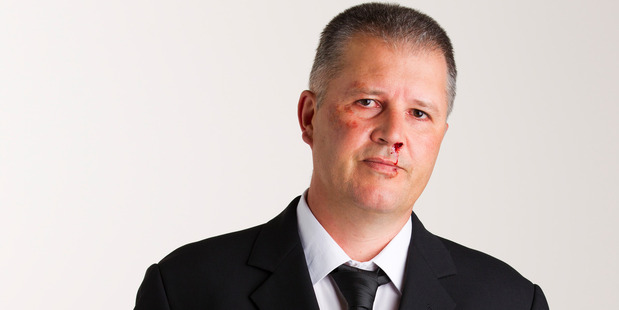 A man walks into a bar ...
It happened one night in a little room above a boozer somewhere in London. It might have been in Fulham. Or Bays-water. Paul Ego can't now remember. Nor can he recall one single gag from his first comedy gig.
"I had a little dictaphone, which I put on the bar where my wife was sitting with some friends. I said 'I just want to record this, my first ever gig. I can listen back to it, see what works, see what doesn't ..."'
The tragedy is that neither Ego nor history will ever know which of his bits were shit and which weren't. "One of my friends, who was sitting near my wife Janine, tapped his fingers on the bar for the entire time he was watching me. I couldn't hear a word of it: 'garble, garble, tap, tap'. But it was good! Well I think it was good. I was the first guy on, the newbie, with a couple of other British comics. I can't remember what I talked about, though Michael Jackson was in the news. There might have been some stuff about my grandmother and me being tall (he's 1.96m). It was a five-minute routine that I memorised. There were laughs, mainly from my friends, I think.
But it was good, I really enjoyed it - and got the bug."
It's not quite 20 years since. In those two decades he's gone from bottom of the bill in a boozer in Fulham or Bayswater to journeyman comic, to one of this country's most successful comedians. The 46-year-old is not a gazillionaire. But he is a comedy festival regular, a sought-after MC for corporate events and, significantly, one of the trio of comics (including his great mate, Jeremy Corbett) who anchor 7 Days, a panel comedy that - arguably anyway - may have single-handedly made the future of New Zealand television comedy safe for a generation.
But where there is triumph, there is tragedy. And as the anniversary of that first night of telling jokes for money in Fulham or Bayswater draws near, Ego has chosen to reveal exclusively to Canvas the unsavoury and quite frankly embarrassing truth about his start in comedy all those years ago: he was, in fact, nagged into it. By a woman. A woman who was not his wife.
"I was dared into it by my wife's sister, Maxine. She was travelling through the UK at the time that Janine and I were living in London in '94 and we would go to see stand-up comedy. And every time we'd come out of a show, Maxine would say, 'you should be doing that. You're really funny, you're quick, I think you'd be really good at it.'
"I always said 'no, you're wrong, I wouldn't, I don't want to do that.' But she'd go away travelling and she'd come back and she'd go, 'have you booked a comedy gig yet?' I'd go, 'I thought you were joking.' 'No, no,' she'd say. Eventually I just went 'God, if I don't
she's just never going to stop.' And of course I booked a gig and I loved it
and I was pretty good. And I go, 'oh, I should do comedy!"'
So was he, I suggested, sort of bullied into comedy?
"Yes ... yes! I've been bullied into success! That's the headline: 'I was bullied into success'. And they say bullying is a bad thing ..."
It only hurts when I laugh ... and they don't
As it turns out there's been a fair bit of the old bullying going on since Ego and Corbett's latest TV venture, The Radio debuted on TV3 last month. A half-hour situation comedy set in a radio station - both Ego and Corbett have recently quit breakfast radio for real after many years in the industry - it's a queer mix of them taking the piss out of each other, along with guest interviews (Jon Toogood, Dave Dobbyn, etc) and with expat South African comedian Urzila Carlson as a shirty, snarky receptionist.
"I'm actually surprised by just how bad The Radio is," wrote one critic. "Visually it's a dry hump," said another. Said a third: "a strange and dreadful thing". Readers' comments below these reviews have been several degrees crueller.
It is an oddity, possibly because it began life as a comedy festival show which, on the strength of their 7 Days popularity, TV3 invited the duo to adapt for the box.
"TV3 had a space for a comedy programme and so they took us out to lunch one day and said 'how would you feel about making festival show into a TV show?' We said, 'well we'd feel quite good about it I should imagine! Is this the part where we beg you?' It was very weird. They left and Jeremy and I went next door to a pub and sat down and went 'wow, is that how that normally happens?'.
"Neither of us had written for TV before and we didn't quite know what we were making. I don't think anybody did. I don't think watching it now, anybody still does to a certain extent. It's certainly a mishmash of genres. Even I'm not quite sure if it's a sitcom or a reality show or an interview show or whether it's elements of everything thrown together - like most breakfast radio shows are."
According to Ego, some of the biggest praise - you can't help wondering whether it might be the only praise - has been from people who are in radio or have worked in the medium. Which suggests that it could be more a better in-joke than sitcom. Time will tell.
In any case, it's probably just well he says he's thick-skinned, though possibly not as much as he once was. "I think you get used to [criticism]. But on TV you don't have that instant kind of 'oh-they-didn't-like that' - you just assume it's going well, particularly when you're doing a show like 7 Days, which is popular. So much of the feedback that we get is about people loving [7 Days] that when somebody comes up to you and says 'your show is f***ed' - and they don't mince words, they will yell across the street - it does take you aback."
This is the rubbish bit about being a teller of jokes for money, it seems. Another is that people assume you're a comedian every waking minute.
"Being a comedian is wonderful. But the downside of it is that people think you're in the mood for a joke all the time. I will be at the supermarket and somebody will say 'you're looking quite fat' and point and I'll think 'oh, that made me feel quite shit, I wonder if that's how the people I talk about feel'."
He laughs. But only a bit.
Madder than old King Kong
Paul Jones - for he was born a Jones and became an Ego - has loved a stage as long as he can remember. It was in the blood. His parents, both £10 Poms - he an Eastender, she a Scouser - love Sinatra, Nat King Cole, the crooners. The Goons and Peter Sellers were popular in between. His dad had drummed a bit while in the Navy too, but, from an early age his son was a singer of songs. He would have singing lessons at 12; win a talent quest at 13 belting out, God help him, Jim Croce's Bad, Bad LeRoy Brown.
"Mum and Dad got me into doing talent quests. At LynnMall they would have a talent quest every Christmas. I remember being up there in this jacket, I can't remember whether I borrowed it or Mum and Dad hired it. It was kind of like one of those cowboy jackets, brown suede, with those tassels that hang down from the sleeves. Really relevant for that song. So I wore that and won. I got a $50 Farmers voucher. I was 13. It was like being a millionaire. I should have stopped then. I should have banked my Farmers' voucher, put it into Bonus Bonds and I'd have an island now."
In 1983 the Jones boy won Entertainer of the Year at Avondale College for playing the evil wizard in the school's production of Aladdin. "Mum made these long green finger nails out of an old bright green hose. I am still in contact with a few people from school through Facebook and they say they still remember those nails when I was the wizard, they were amazing."
It was inevitable that he joined a band, and soon enough he was helping liven up surf club do's with covers of The Clash, The Cure, Stiff Little Fingers and the Hoodoo Gurus at the weekends. It was what he filled his weeks with that was the problem.
"So I was a singer in this band, this was this thing I did in the weekends, and it fantastic.
But my job was working at a Four Square. I left school and I didn't want to go to university, I'd found 7th form hard enough, getting motivated. All I wanted to do was sing and fart around really. I was stacking shelves and serving people. My first job was actually at the central Post Office, which is now the Britomart train station. Mum and Dad said 'you've got to get a job, you'll not survive being in a band playing surf gigs'. I got a job at the Post Office just doing clerical work. And, because I was as tall then as I am now, I was hunched over a desk every day. Literally every six weeks I'd stuff my neck. I had to give it up. It's like an elephant trying to ride a tricycle. It was ridiculous. So I was there for six months. Then this job came up at our local Four Square, so I worked there for about a year. I wasn't bored at all; you got free icecreams and pies. They were great days, heady days ... heavy days - that's where I started to pack on weight probably.
Heavy, heady days! So we sat down, had a family meeting - not quite an intervention - and Mum and Dad said 'what do you like doing?"'
He decided on a signwriting apprenticeship, a five-year, 10,000-hour commitment that didn't end until 1989, by which time he'd made another commitment: he'd met - at a surf club gig one New Year's Eve - and married Janine. They left for Britain, for their OE, in 1990. By the time they returned, Ego had found himself.
Cogito ergo sum Ego
(I think, therefore I am, Ego)
"I started doing stand-up as soon as I got back. I did six to eight gigs in the UK. I'd loved that first gig, loved it, so I booked as many gigs as I could before leaving the UK in 1994. Even then I wasn't thinking 'I want to be a comedian', but I knew I wanted to do comedy."
It would be five years before he gave up the day job, but for another day job: radio. Over the next 11 years, at More FM and The Rock - on-air and producing - making comedy on breakfast radio was his bread, and stand-up and MC-ing his butter.
But it was 7 Days, which premiered in 2009, he credits for creating the comedian he really enjoys being. "Which isn't doing too much preparation but just turning up and knowing that there is a really good infrastructure around you - as there often is in radio - with the other comics there. You know that something funny will come. They quality of the comics is great, you couldn't wish for a better group of gunslingers.
"I am very grateful at the stage of my career that I've got to, that I can do comedy for a job and work with a group of comics I genuinely love working with. In radio you're sometimes thrown together with people who you will probably end up liking, but it is a group of strangers and they've kind of gone 'you've all seen The Magnificent Seven, we've got a knife thrower, we've got an Indian, we've got a guy who's good with machinery, we've got the gunslinger - go and make some magic chemistry'.
Sometimes it works, sometimes it takes a lot of work. We're just fortunate with 7 Days that we knew each other and had performed together a lot. So that was already there, so we hit the ground running.
"Doing 7 Days once a week, plus corporate and the odd live gig, I kind of have my days free to walk the kids to school, to go to the gym ... once every six months ... It's a great life, I am really enjoying it.
"Prior to 7 Days I think people saw me as a pretty good comic, possibly a better MC than a 'set comic', because of the style of comedy I do. I don't really write gags, it's more kind of stories and working with the audience. I guess radio sharpened that side of my comedy - having to think on the spot every morning."
Is it a bird? Is a plane? No, it's Super Ego
What does Ego love about comedy? The laughs, of course.
"It is that moment on stage where you say something that you've prepared and go 'I hope this is funny' and a whole room of people laugh and you go 'wow, they've just laughed at something I wrote'. You ask any comic: the bad gigs pale to the next great gig that you have - and there are a lot of bad gigs."
One such horrible night, about a year into his stand-up career, he was asked to be part of what he thought was pretty much the best comedy line-up in New Zealand. "Mike King calls me up, and at the time he was our biggest comic, and says 'Paul, it's me, Ewen Gilmour, Dean Butler and you. There will be 600-700 people and you'll get $500' - it was more than you would get for a comedy gig at the time. I thought 'shit, they want me?
Great' So we get there on the Saturday night, we pull up into the carpark and there was literally two cars there. So we walk into this massive rugby club, and it's empty, there's nobody in there! It was like a scene out of a Western, there was a barman cleaning a glass noisily with a cloth - eik-eik-eik - and Time Of My Life from Dirty Dancing is playing on the jukebox and there is another woman emptying the dishwasher. Mike walks over and talks to the people - blah, blah, ha, ha - and we're standing around. He comes back over: 'there's been a bit of a f***-up lads, the posters say it's tomorrow night. So nobody is coming'. We're there on the wrong night for the gig! I think 'right, well obviously we're going to get in the van'. Then Mike says 'I've had a word to the guys, they can't pay us the full fee but, particularly for you Pauly, it will be good money, so let's just do the gig anyway'. I'm like 'pardon? There's no one here, literally no one here'. There were more of us than there were other people in the venue.
But we're going to do the gig. I get up there and do my kind five to seven minutes of stuff. I just did material, the routine I had rehearsed: 'what is it about being tall? I tell you what: my Mum was a giraffe!' Of course the comics aren't laughing, they've heard it before. So I do my seven minutes to silence. Just soul-destroying. Dean Butler gets up does one song and then Mikey goes 'that's probably enough, let's go' - they didn't ever do their gig. He thought it was hilarious." It still is.
But nearly 20 years on it, Ego is himself a big name now, the elder statesmen. Indeed his career is obviously so rosy that both his boys (Isaac is 7, Gabriel 13) say they want to be comedians too.
Ego isn't so sure. "They're both very funny boys. But I have to say to them 'that's wonderful - but you will need another job. You're not just suddenly on 7 Days.
To get to this point I have had 20 years of working and meeting the right people at the right time. If you want to do it for a hobby or something you enjoy, do that and it may lead to something - or maybe not'. But there is nothing more wonderful than making people laugh."
7 Days and The Radio screen on Fridays on TV3 from 9.30pm.