Humour helps on the road to the serious business of kapa haka championships, writes Scott Kara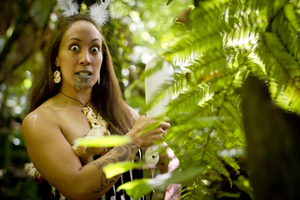 There's a new reality show on the block that's got lots of hot looking ladies, tanned and toned blokes, and a healthy dose of Maori culture thrown in too.
But if you're thinking Secret Lives of Dancers-meets-The GC, then think again.
Kapa Haka: Behind the Faces follows the current kapa haka national champs Te Matarae I Orehu from Rotorua as they defend their title at Te Matatini (which is on this weekend in Rotorua). And while there are many laughs and some preening going on during the show, it's a serious business and the stakes are high.
"It's good kaupapa. It's a good story," says Te Matarae's female leader Miriama Morrison-Hare.
"And going behind the scenes of what happens in kapa haka is hopefully inspiring, especially to young Maori to help keep the culture alive."
And yes, while the modern day kapa haka competitor should ideally look more like a Super 15 player than a member of the Patea Maori Club, there's more to it than that.
"With our performances we have a high intensity level, where every one needs to be full of energy and fitness. So a muscly guy might be a good look, but he might not even be able to make our entry-level standard," she laughs.
Morrison-Hare is a kapa haka queen, and as well as being the reigning female champ she also comes from good Kiwi entertainer stock, being the late Sir Howard Morrison's great niece and Temuera Morrison's niece.
She's been doing kapa haka all her life and after her mother Taini died, she stepped up as Te Matarae's female leader.
"It was difficult and there was a lot of pressure to try and fill her shoes because she was definitely a role model to everyone. But you know, as she would always say to me, 'Pull your head in. Get over it. And do the job. It's not about you'. So I just took those words on and I just do it for her."
The show's producer, Lara Northcroft, from Velvet Stone Media in Rotorua, says the five-part series captures all the blood, sweat and tears that go into preparing for the festival.
"These are people who give up their weekends, who practice the poi during their coffee break at work and learn the words to the haka sitting in their car at the lights.
"Through them, we gain some insight into an obsessive passion that consumes them for months on end, for just 30 minutes on stage."
TV preview
What: Kapa Haka: Behind the Faces, reality show following current national kapa haka champions on the road to Te Matatini Kapa Haka Festival. Starts March 1, 9.30pm, Maori TV
Go to: Te Matatini, Rotorua International Sports Stadium, until Sunday. Watch live stream of finals on Sunday from 8.30am at maoritelevision.co.nz