In a big-screen remake of classic 70s British cop show The Sweeney, it's big Ray Winstone kicking down doors. He talks to Shereen Low.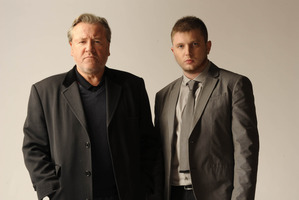 Ray Winstone doesn't mince his words. While most people would make the most of being the centre of attention in a luxury London hotel, he admits he'd rather be anywhere else.
"I'm all right, but I could be picking my feet instead," he says, with a hearty chortle. "And I want a fag ..."
Down to earth and instantly likeable with no airs and graces, Winstone is as about as far from a sex symbol as you could get, with his gruff, gravelly voice, ripe Cockney accent and slicked-back grey hair.
Yet in his latest film, The Sweeney, the 55-year-old British actor, whose stocky build screams more teddy bear than screen hunk, manages to bed Captain America beauty Hayley Atwell, who happens to be 25 years his junior.
Viewers are treated to Winstone slobbing out in full glory - belly, saggy boxers and all. It's not the first time the former boxer has bared flesh on screen - he revealed rather a lot in Sexy Beast, Beowulf and the TV drama Compulsion.
"I have no qualms with that," he says.
"I am a big ol' boy. I am the guy next door. We're not all built like Dolph Lundgren or Arnold Schwarzenegger - we're British and we can be slobby.
"I think part of playing a character is getting rid of the vanity and the ego about what you might look like on screen, and I'm cool with that."
Winstone, who is happily married to wife Elaine and is a doting dad to three daughters, is baffled by his popularity with the ladies.
"I don't know what women see in a 55-year-old fat man," he says, rolling his eyes.
"I haven't got a clue how that works. If I am a sex symbol, then fantastic, I love every minute of it.
"I think it's the way you treat women that makes you sexy. You've got to be genuine, a bit of a gentleman and a bit of a rogue at the same time, but if you try to set out to be that, you're never going to achieve it."
Winstone plays Detective Inspector Jack Regan, the role made famous by the late Inspector Morse star John Thaw, in Nick Love's big screen adaptation of the cult 70s TV series.
Ben Drew (aka rapper Plan B) steps into Dennis Waterman's shoes for the role of sidekick Detective Sergeant George Carter.
As part of the Flying Squad, Regan and Carter employ non-conventional and largely violent methods to catch criminals.
"Sometimes these guys are more the villains. They break down doors, smash your furniture in and ask questions later," explains Winstone.
He relished the opportunity to do his own action sequences, brandishing guns, chasing cars and swapping blows, even if he ended up breaking a rib or two.
"Playing with guns, you revert to being a little boy, although guns are not toys," he says.
"You start to get to the wrong side of 50 and think, 'Maybe I just want to do love scenes now'. But when you've got to the end of the day and you're aching, out of breath and you've been roughing and tumbling all over the place, you actually feel pretty proud of yourself."
Winstone has actually come full circle because he had a small, non-speaking part in the original TV show back in 1976. "It's weird. This is almost like it should be the last job I ever do. Let's hope it's not!
"I was an extra and wasn't supposed to say anything, and I remember I got into trouble because I kept talking," he recalls, laughing.
In the few years that followed, Winstone ended up filing for bankruptcy twice, before working his way back up the ranks.
"Here we are, more than 30 years later, and I'm playing Jack Regan," he says.
He speaks highly of Thaw, who he worked with in the short film Masculine Mescaline in the mid-90s, and later on Kavanagh QC.
"I liked him as a man, as well as an actor," he says. "He was a complete and utter professional, but a good guy with it. A very special man. I can't say any more or I'll cry."
But Winstone was adamant that he didn't want to play Regan the way Thaw did.
"I am old enough to remember the original series, which was ground-breaking TV at the time. It was down and dirty, and we could all relate to it in a way. I knew we couldn't make it as good as his [Thaw's] performance, because you can't. It's impossible. The man was fantastic.
"John Thaw and Dennis Waterman are icons to our age group. Once I realised we weren't copying them and were making our own film, then it was all right."
However, he hopes the film will introduce a new generation to The Sweeney, especially with the casting of Drew.
"Little Benny is blindin' in it, he's very good," says Winstone. "He looks like he can kick a door down, and he can act. He'll bring a new generation to it."
Fans of Winstone's tough guy methods won't be disappointed - there are punch-ups and high-speed chases galore. But though Winstone might have made a name for himself playing hardened bruisers in movies such as 44 Inch Chest and The Departed, in real life he says he's a big softie.
"Don't tell no one but I'm not like the geezers I play," he says. "Loads of things scare me in everyday life, but you have to hide a bit and put on a front. I cry at movies, I cry at scripts, I cried when West Ham got back into the premiership last season.
"I'm even frightened of spiders."
What: The Sweeney starring Ray Winstone, Hayley Atwell and Plan B (Ben Drew)
When: Opens February 28
- TimeOut / AAP