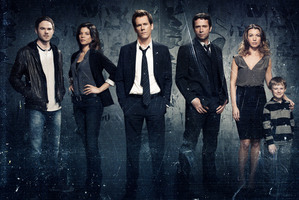 History tells us a single evil person can absolutely inspire hatred and murderous intent in the masses. That cult members will take lives - even their own - at the suggestion of a charismatic leader. TV land is full of gang leaders ordering hits. But how likely is it that someone could convince others to carry out his dirty work through the internet and from behind bars? This is the basic concept behind The Following, (Mondays, 9.30pm, TV One), Kevin Bacon's interesting but slightly whiffy foray into television, and it plays on some of America's deepest, darkest fears: a) that someone you've lived next door to for years could turn out to be your worst enemy, and b) they believe in something that can't be killed off.
If you can suspend your disbelief and put aside the notion that serial killers are, according to popular culture anyway, narcissistic beings who don't comply to any laws other than their own, then sure, The Following will win a large following. It's certainly more intriguing than your typical crime procedural.
And who doesn't find cult leaders compelling?
This is what best describes Joe Carroll, (James Purefoy), a former English lit professor with an Edgar Allan Poe obsession, and the guy Bacon's downtrodden cop Ryan Hardy is after.
Given that he likes killing pretty young things, at times it feels like watching writer Kevin Williamson's other creation, Scream, only without the laughs.
Several prison guards are slaughtered in the pilot's opening scene, one of Carroll's "groupies" stabs herself through the eye, and other victims are hung upside down with their eyes gouged out.
It's also reminiscent of Criminal Minds, only with more irritating side characters (that whiney Agent Mitchell is doing my head in) but a slicker, feature-film feel. Since Bacon did Wild Things I was hoping he'd play the bad guy - and he does, unofficially, in that damaged hero way. He put Carroll away the first time, shacked up with Carroll's wife for a bit, then wrote a controversial book and got off-side with the bureau. He's a solid, if mopey, presence.
Meanwhile the Poe references are every bit as overdone as when they were scrawled all over the woman who stabbed herself. Where did Ryan arrest Carroll for the second time? At The Lighthouse, of course! So far it's not clear if this army of hit people are ordinary folk living out their sick fantasies a la Hostel or if they're serial killers in the vein of Ted Bundy. Would these people really be so swept up in the Poe-try of it all that they'd take out the doctor next door (poor old Maggie Grace, always the victim) after three years pretending to be gay? Or dress up as a cop and invite themselves into a young woman's home to dispatch her family? According to The Following they would, and it certainly makes you feel as though anyone's a potential threat - a fear many Americans and victims of gun violence know all too well.
It also sets the bar pretty high for Carroll, a man who is clearly so clever that he can puppeteer a string of killings from jail.
English actor Purefoy doesn't yet seem terrifying; more vaguely pervy and unsettling. In a prison scene he taunts Bacon with his incessant Poe-isms and rattles his cuffs a la Hannibal Lecter. He's no duplicitous Dexter.
Yes, there's a lot that feels staged about The Following but, given its unusual set-up and surprise element, I'd be prepared to follow along a little longer.
- TimeOut