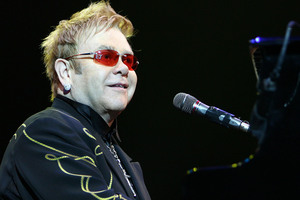 The new Queens of the Stone Age album is turning out to be a star-studded affair - Sir Elton John has recorded material for the disc.
The group has returned to the studio for the first time in six years, and they have been joined by part-time members Dave Grohl, Nick Oliveri and Mark Lanegan, as well as Nine Inch Nails rocker Trent Reznor and Scissor Sisters star Jake Shears.
Grohl stood in for talk show host Chelsea Handler in the US on Wednesday night, and interviewed the Rocket Man - who revealed he also makes an appearance on the band's highly-anticipated new work.
"I played on Queens of the Stone Age's new album ... I flew from Vegas to LA (to record a duet with Engelbert Humperdinck). He had wrote a great song and he's 76 and has a great voice and I couldn't say no," Sir Elton told the audience.
"I sang the duet with him and I drove three blocks ... and went from Engelbert to Queens of the Stone Age. Which was a bit of a mind f**k. I love that band so much."
- WENN