Seeing the celebrity chef is like opening a door and being thrown up in the air by a red-headed tornado.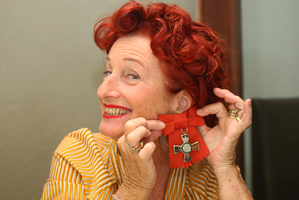 Did Peta Mathias always look like Peta Mathias? Although I have known her, as a very occasional acquaintance, for over 20 years, I can't remember whether she always looked like the famous Peta Mathias. She has certainly always caused the same sort of sensation: seeing her is like opening a door and being thrown up in the air by a tornado, if a tornado had red hair and wore very large earrings and flamboyant costumes.
Even when she's wearing quite normal clothes she always gives the appearance of being in costume. She is of course always in costume because she is always appearing in the theatre that is her life.
On Wednesday she went to Government House in Auckland to receive her gong - "it's a very minor gong, Michele", she said, meaning this not at all and I know this because she can't wipe the Cheshire Cat grin off her red-lipsticked face. It is a lovely gong. It has an orange ribbon and so might have been made to go with the hair. I told her to bring it to lunch and for once she did as she was told and even let me have a wear of it.
Mind you, this was a reasonable exchange because she pinched my lipstick for a touch-up and handed it back all covered in the red lippy she was already wearing.
When I complained she said: "Aren't you lucky? Go on. Go mad. Buy some red lipstick." She has the cheek of the devil and always has, even before she was famous.
I first knew her when we both did a bit of scribbling for a music rag put out by the jazz musician, Hattie St John, and she was newly returned from running her restaurant in France and so was sent off around the place to interview winemakers. They didn't know what had hit them and we sometimes fielded phone calls from her interviewees who were, to put it politely, still reeling. Now she is the one being interviewed, and has been for years, and she still managed to make me reel a little and I knew what was going to hit me.
She has been made a Member of the New Zealand Order of Merit and trust her to get an investiture ceremony all to herself - she will be out of the country when everyone else who got a gong in the New Year Honours gets theirs. Quite right too. You can't imagine her sharing such a ceremony and besides, she'd upstage everyone else. Despite being one of six children - you can guess which number child she is; she said: "Do I look like a middle child?" - she says she always thought of herself as an only child. Her mother might well concur. I would rather like to meet her mother although I doubt I, or anyone, could cope with being in the same room as the pair of them at the same time.
Her mother, she told me when I phoned to ask for an interview, had said of the gong: "At last she's done good." This turned out to be an embellishment which turned out to be no great surprise - her entire public life is an embellishment. And before she phones and shrieks at me for saying so, I mean that in an entirely admiring way. She is a story-teller and a very good one and she has made up her own story and told it in a way which you can only applaud. She asked me to mention her stage show which of course I'm more than happy to do, so here seems an appropriate moment: It is called Peta Mathias Live and is at the Maidment on March 13 and thereafter at various places around the country. (Details are on her website: petamathias.com). She said, of this being on stage: "I should have done it years ago," to which I managed not to respond: "But you've been on the stage for years!"
But to return briefly to her mother - there is not room for two of them inside my head for longer than that - she wore her medals, from her World War II service in the Royal Australian Navy, to her daughter's investiture. Good heavens, I said when I read that. I said, later, to her: "Your mother is quite something!" which may prove to be the understatement of the year. Her daughter shrieked: "Can you believe she upstaged me at my own medal day?" Yes, I can actually. I imagine they are quite alike. She says her mother, who at 92 flew over from Sydney for the do, did ask if she could wear her medals. Well, that was something. She didn't actually say "at last she's done good," but she probably thought it. I know I did.
That is a little joke, by the way. The last time I made a little joke in print about her she had a conniption, rather proving, I felt, that I was right in calling her a drama queen. I am happy to correct that today, 20-odd years on. She is not a drama queen, or a prima donna, she just looks like one. Okay? She may also shriek a bit - when she's not putting on a teeny tiny coquettish voice to waiting staff or the male photographer. She said that she can't help her voice; it's the one she was born with. Hmm. All I'm saying about that is that it is better not to argue with her.
Anyway, she and her mother get on well now and have stopped fighting like cats, so hooray. They were "alike enough" not to get on but years of therapy (on the daughter's part; I don't know about the mother) has resolved their tricky relationship. "We've both apologised for past excesses ... I genuinely admire who she is now, put it that way."
Hardly anyone would tell you that they had had years of therapy to get over their relationship with their mother, but she will tell you almost anything. She could hardly not tell you almost everything because she's been mining her life for years, in print. Her next book will be a memoir about selling her Grey Lynn house and buying, unseen, a dump in Uzes, in the South of France which she will do up and turn into a cooking school.
She's 63. She's still a "gypsy"; still looking for adventure and romance. She doesn't, by the way, mean romance as in a man. She means it in the "literary" sense. She has had quite a few men, but I think she gets bored. She wrote a book about men called, charmingly: Just in Time to be Too Late: Why Men Are Like Buses. She said that until she interviewed men for the book she'd never actually asked a man for his opinion about anything. She now wishes she had occasionally listened to men because then she might not have always said: "If you don't like it, f*** off." But, hmm, again. That's one way of getting out of ever being tempted to settle down and you can no more imagine her settling down than you can domesticating a cheetah - sooner or later it's going to tear up your sitting room and make a run for it. So why would she have ever asked a bloke for their opinion? I was going to write that I can't imagine her ever having asked anyone for their opinion about anything or to having taken anyone's advice about anything. But then I remembered that I once told her that the best way to cook a turkey was to baste it with cream and she shrieked: "I don't believe it!" But she found the recipe and now cooks turkey that way every Christmas, so she can take advice, occasionally.
Also, she told me she once told her producer that she did better pieces to camera after she'd had a drink and he said that, no, she just thought she did better pieces to camera after she'd had a drink because she'd had a drink. Presumably she also took this advice.
She was on the telly for 12 years, starring in Taste NZ for TVNZ and now she isn't on TVNZ in anything and it is best not to ask about this - just imagine her pulling the sort of face you pull when you sniff a rotten egg. She says she never expected it to last forever but she did expect, and didn't get, a "goodbye and thank you".
She says she has always been more or less the same person and that when she was 5 she was a mini-version of the grown-up person: "Intense and determined." Her mother used to have to go and defend her against the nuns at her Catholic schools: She's highly strung, she would say. Which is is one way of saying, should it need saying, that she is not and has never been a shrinking violet.
Perhaps oddly, she is a very domesticated creature in many ways (although one who does make periodic runs for more exotic sitting rooms.) She had been interviewing her darling father, who of course did not upstage her at the investiture, about his life, for her memoir, before our lunch. Somehow they ended up talking about her and what she was like as a little girl and she was a very odd, obsessive little girl who swept her room every morning and who colour-coded her clothes and shoes. I asked if she still did and she said, no, she didn't colour-code her clothes ... but then she remembered: "Well, actually! I do! I have two wardrobes; one with all my white stuff and the other one has all my coloured stuff. Oh, my God! When you lead a very unstable life, it's a way of keeping order. I mean: Who could live with me? Nobody could live with me." She didn't look remotely displeased by this evidentially just-arrived at notion.
She said: "I mean, God, when you met me, I had nothing! I was broke. What was I doing? Working in some God forsaken restaurant." I said: "When I knew you ..."
"I was nothing! Or as my brother always says: 'You'll always be nothing to me!"'
What a rat. Look at her now, all gonged up and - I couldn't resist - the face of a dentures company. I said: "What's this about the dentures?"
She said, showing her teeth just a bit: "They're very nice people and the whole principle of the thing is that people who don't have good teeth don't enjoy their food. I'm going to do it again. I love it." But dentures! "I'd put my name on toilet paper if someone asked ... The only stipulation is that it has to say: Kiss My Arse, and I'd like to send a whole free packet to TVNZ." Dear oh dear. And she was doing so well at playing at being royalty, which she says (joke!) she is now that she's been gonged.
Still, unlike her mother, I can say, and really mean it: She's finally done good. And I really am as proud as Punch (or her mother) of her.