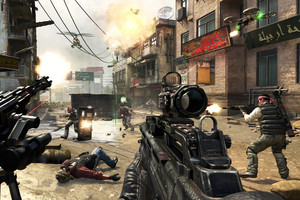 For the first time since 2004, a Call of Duty title has released on a Nintendo platform that isn't a completely different, and worse, experience to that being played on other consoles.
Black Ops II marks a momentous occasion for Nintendo fans that have had to scramble to find ways to defend a console that just couldn't do what the other consoles could. Not only has Treyarch been the team behind this key moment on the Nintendo timeline, but they do it with a game that could be one of the best launch titles a console has ever had.
There are benchmark tests out there that claim the Wii U has a lower framerate in certain action-heavy moments (but without comparison I can't say I noticed) and there are reviews that claim it's the definitive version to get. While I can't tell you which version to get, I can say with all honesty that Black Ops II is a must-buy for any FPS fans that own a Wii U, and here's why.
In true Call of Duty fashion, the story follows numerous characters and allows you to control a handful of of different protagonists throughout. While it comes across as a little disjointed at the beginning, once the characters become familiar and their stories and motives become clear, everything seems to align. The story is big and brings story changing decisions to the mix. A decision here or there can alter what's happening, or who survives, and can lead to a handful of different endings.
To go along with the story, the action is big as well. While the majority of the game does find ways for you to do your typical CoD-style A to B killfest mechanic, every now and then you're chucked into different situations that give reason for excitement. Whether it's swinging across a cliff-face, using a wingsuit to descend from a plane, or simply casually strolling through an enormous futuristic cruise-boat hotel, the change in pace is welcome and enhanced by the graphical showpiece on offer.
There are moments in Black Ops II that forced me to die; not because the section was too hard or because I sucked at the game, but because I simply wanted to see a certain cutscene or moment again. To know that a game this gorgeous is a launch game for a console (yes, it's a current generation game for other consoles, I know) means that once developers gain a little more knowledge of the hardware, we're going to see some amazing looking titles for sure.
To go along with the rollercoaster ride that is the campaign, you have what most CoD fans will be buying the title for: zombies and multiplayer. It's great to see the Wii U with an online solution that allows gamers to jump into games, send messages to each other, and connect to strangers instantly, but it's disheartening that there isn't a system-based solution.
You won't be able to check your Wii U friends list and join a game your friend is in, you'll need to load up the game, check your Black Ops II friends list and join from there. Sure, it's an inconvenience over anything else, but it's something other consoles do better and something Nintendo should have thought about.
Other than what I feel is a major inconvenience, everything you'd expect from a Call of Duty game is here. As far as I am aware no features are missing, but the one place the Wii U shines over the others is when it comes to the Wii U's GamePad. While it isn't really utilised in the solo campaign, the ability to be able to play the game sans TV will be a huge hit for those that have to share the lounge with others. The game retains its fantastic visuals on the small screen and, if you have headphones plugged in, you'll be just as immersed.
What did seem strange is that at certain moments of the story the character you're playing as looks over to the small monitor attached to his arm-computer (that's the technical term) and the game cuts to a small pre-rendered video of a conversation with his superior. Every single time this happened I instinctively switched my vision to the GamePad; it just seemed like a thing I should be doing, but it wasn't, and it caught me off guard each time. Not a gripe, just something I noticed while playing.
The biggest benefit of the GamePad is the ability to completely erase split-screen gaming from same-couch multiplayer. No longer will you have to struggle with a super widescreen version of zombies or multiplayer and instead you'll get to enjoy an entire screen to yourself. While some of you may wonder why you'd pick the GamePad screen over the 40" TV on the other side of the room; at the distance you'll be holding it the GamePad basically takes up the same amount of your vision a 40" TV would from a few metres away. The argument is null and void when you get it in your hands and realise same-couch gaming is better experienced this way than any other.
So while the Wii U version doesn't improve on the story or have game modes / mechanics that will push this version of Black Ops II above and beyond what you'd be expecting on other platforms, there are plenty of reasons to choose this version. You may only have a Wii U, you might share a TV with others in your family / flatting situation, or you may have a friend who always comes over to play.
On the flipside there's also a very good reason why you may want to go to another platform. While there is an online presence, it isn't large. You shouldn't have a problem finding a game, but that means nothing if you keep bumping into the same people.
This game is easily one of the most jam-packed, visually impressive launch titles that has probably ever been released. Treyarch deserve a round of applause for doing what they've done here both technically and because of what they've done for Nintendo's home console.
Platform: Wii U
Classification: R16
Rating: 4.5/5