Actor reckons his voice-over role as a non-PC Santa may net long-term fame.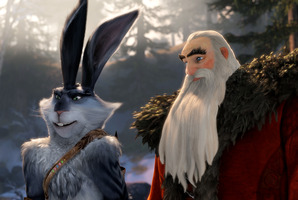 Alec Baldwin has one of the most famous voices in showbiz - a low, whispered growl that can be played for menace, or laughs. However, as anybody who has caught Baldwin on 30 Rock, Saturday Night Live or even Inside the Actor's Studio can attest, he's more than happy to hide that.
A gifted mimic, he's taken down everybody from Richard Nixon to his 30 Rock co-star Tracy Morgan with his killer impressions.
But he's rarely asked to be "just a voice" in a movie or TV show. And when he was asked - for the new DreamWorks animated holiday comedy Rise of the Guardians, opening on January 3 in New Zealand - he knew he wasn't going to play it straight.
"Jeffrey Katzenberg called and said he wanted me to play this ... how can I put this in politically correct terms ... a complicated, competitive Santa Claus," Baldwin recalls.
His character, called North, is macho. They had suggested a version of Santa that was someone from the Siberian wilderness.
"A lot of times, your initial take on what they want is the best idea. You can think these things to death. I've done plays and films where we'd have dialect coaches come in and they would teach you how to nail an accent, get it truly authentic.
"But sometimes, that makes the character hard for the audience to understand. So they ask you to homogenise it so people can understand it ... So I fell back on my stock Rocky & Bullwinkle Boris Badenov accent here. Saturday-morning-cartoon Russian - that's what I went for. I think that's still funny".
Baldwin, 54, knows funny. Ask Jerry Seinfeld. When the veteran comic cast people to pick up in vintage cars for comic riff-offs in his new web series, Comedians in Cars Getting Coffee, he called Baldwin.
Baldwin protests that, "I've imitated a comic for a while. But that's about it. Jerry, like (30 Rock creator and star) Tina Fey and most of the people on 30 Rock and all of the people on Saturday Night Live, write their own material.
"The 'comic' label for me implies people who write funny things that they then perform. I don't write. I'm lucky enough to perform funny lines that other people gave me."
A two-time Emmy and three-time Golden Globe winner for his turn as smooth, understated and cunning, yet politically and comically tone-deaf exec Jack Donaghy on 30 Rock, Baldwin was singled out by the New York Times Magazine as one of "Eight Actors Who Turn Television into Art".
But those days are coming to a close, because 30 Rock will end its run after its current season, despite Baldwin's efforts (he says he offered to cut his salary) to keep it on the air.
But the onetime American narrator of TV's Thomas the Tank Engine is happy to do a children's animated film. Rise of the Guardians, he says, may be the best way for an actor today to guarantee his immortality.
"Kids' movies go in five-year generations. You've got the Little Mermaid generation, the Pocahontas generation, kids who came up on Shrek and then kids who were the first to see Madagascar.
"A couple of years go by and there's a whole new crop of kids comes along, and they're going to see these movies not in theatres, but at home on DVD.
"So that's what you remember when Jeffrey Katzenberg and Dreamworks call. Every good movie like this has a chance to access generation after generation of kids. There's nothing else in film that can make that claim."
Movie profile
Who: Alec Baldwin
What: The voice of Santa Claus in the animated movie Rise of the Guardians
When and where: Opens at cinemas on January 3.
-AAP