As the final curtain starts to come down on the Twilight screen saga with the release of the final film, Michele Manelis talks to the film's stars about surviving the experience.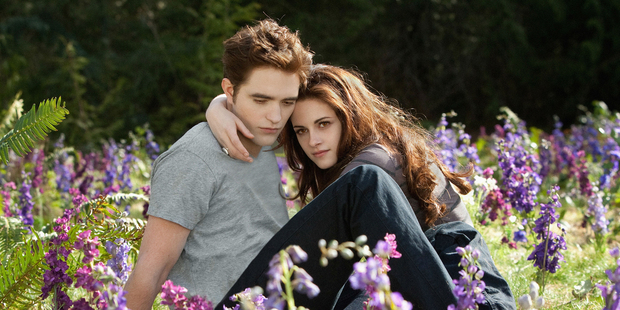 It was only four years ago that three relatively unknown young actors appearing in a modestly budgeted independent film quietly wandered into their first round of press duties at the the Four Seasons Hotel in Beverly Hills.
Much has changed. Now encumbered by bodyguards and publicists, the three movie stars hit the lobby in a blaze of flashbulbs.
A little later, Robert Pattinson has settled himself into a sofa in a hotel suite where he will remain locked away for most of the next three days giving interviews for the final instalment of the franchise, The Twilight Saga: Breaking Dawn II.
"You know, looking back to when we started, sometimes I have no understanding of what happened at all," smiles Pattinson, running his hand through his carefully dishevelled hair.
Despite a personal net worth of US$60 million ($73 million) and an annual salary of a reported US$25 million, the English actor who will forever be known as vampire Edward Cullen doesn't carry the same swagger or arrogance as many of his peers. He thinks for a moment about why that's so.
"I guess I'm quite a genuinely insecure person, and so it's not very hard for me to stay the same. You've got to be pretty dumb to let your head get big, especially now when everything about your life is reported. I don't understand people who still have a big ego who are actors. It's like, everyone knows who you are. Everyone knows you are just a vain moron, that's what every actor is."
Four years ago, a few weeks before the release of the first Twilight movie, he had said of his future: "I haven't decided if acting is going to be my career. I'll see how this film works out, and if it doesn't, I'm okay with it. I'd really just like to be a pianist and play in bars in the south of France."
Reminded of his comments then, he laughs. "Yes, that was a few weeks before the release of Twilight, and then as it drew closer, I could feel an energy about it. I thought it was either going to make US$12.20 on opening weekend or US$80 million. I bet my manager it was going to make around US$80 million. He thought I was crazy." He smiles. "It took it around US$77 million, and I won $50."
The Twilight franchise, which has now grossed more than US$2 billion, series was adapted from the best-selling novels penned by Stephenie Meyer. The first book was originally optioned in 2004 but it took three years of studio juggling before filming started.
That first film turned Pattinson into an international heartthrob. Many of his fans have cited him as the cause of the ongoing phenomenon. But he's quick to deflect the responsibility.
"No, it's Stephenie's creation. I was part of it but it's not my creation and so I can't claim it, nor do I have any ownership of it," he says.
But surely he's had something to do with it?
"Well, I suppose if you want to be any kind of artist, you have to make the role your own."
But ultimately, the success of the Twilight fantasy series comes down to its against-the-odds love story between an immortal Prince Charming vampire and the ordinary damsel, Bella, whom he must protect.
Quips Pattinson: "Everyone always talks about what a great boyfriend he is, but it's pretty standard stuff. If someone's trying to kill your girlfriend, you'd try and save her. I'm always hearing Edward winning the title of 'best boyfriend' in magazines. I mean, what are these girls' boyfriends normally like?"
The films have come with their own sideshow - the real-life relationship between Pattinson and Stewart since they met on set five years ago. It's been fraught with rumours and tabloid headlines, and has constantly kept the Twilight franchise in the media between movies.
Notably, Stewart's recent affair with her married Snow White and the Huntsman director, Rupert Sanders, caused her to publicly apologise for this faux pas, which is possibly more of a statement on today's culture than it is on her own personal business.
Stewart turned the negative publicity she endured on the part of the fans and media into a learning curve.
She says, "As soon you start considering other people's opinions about your life who know nothing about you, you are going to live a very disjointed, really unsatisfying awful existence. You should probably be a bit more concerned about how you feel about yourself. It sounds completely cliche, but it's true."
Pattinson laments of the perils of fame.
"If this success happened 12 years ago, pre-camera phones, pre-TMZ, this would be the greatest thing ever. It would be a free pass. Look at DiCaprio after Titanic. He could do anything he wanted. It must have been the coolest thing in the world. But now, being famous means you become insanely conservative, terrified about everything," he says. But despite the restrictions it brings his life, he says, "Of course the good outweighs the bad and I have no regrets. If I knew then what I know now, I'd make the same decision about taking on the role." He pauses. "Although, I do miss things like walking down the street. Anonymity is a privilege which of course you don't realise when you have it."
The three leads may be forever associated with the series, but they've managed to carve out separate careers away from their beloved otherworldly characters. For the most part, they've have made smart choices. Pattinson most recently starred in Cosmopolis, Bel Ami, and last year he played opposite Reese Witherspoon in Water for Elephants. He's currently in pre-production on five projects.
Stewart, has been declared the top earning female celebrity with an estimated net worth of US$55 million, eclipsing the multimillion-dollar salaries of Jennifer Aniston or Angelina Jolie.
Taylor Lautner hasn't been as fortunate in his choice of roles, appearing in the ensemble Valentine's Day and the little-seen, Abduction. It must be said, however, at age 20, and with a reported US$40 million net worth, there's no need for any concern. He will next be seen in Grownups 2.
Says Lautner, "When I look back on the first one, I look like a different person. Now that it's over there's a lot of mixed emotions and it feels really, really surreal that it's over. It was such a huge part of our lives. The fact that it's over, I have to pinch myself. It's definitely a bummer."
Stewart, who experienced the biggest change in the series when she transformed from human to vampire, faced physical challenges that had previously eluded her.
She grins. "I finally got to do stunts on this one after I've been sitting around for years watching other people do them. Did you see how high that waterfall was?" She asks, rhetorically. "I did do that jump off it. I really did it."
Stewart clearly enjoyed her time as a vampire. "Everything that really made Bella special as a human is amplified as a vampire. I never felt like I was making this huge leap into fantasyland, it just felt that finally she was taking the next step."
The films have been true to the novels, although the end of Breaking Dawn II doesn't follow the book entirely and offers a surprise twist. Stewart offers, "There's no validation like Bella's validation at the end of the story. It was very satisfying."
Having grown up with her character to a large extent, how does she feel about leaving her?
"She's not going anywhere. Movies are etched into our history. They're here forever."
Stewart says she's "relieved" the five-film series is finally over. "If I say I'm excited the experience is complete, it's only because I don't have that responsibility weighing on me anymore. A typical movie, you've got a five-week or even five-month commitment. This was five years. I'm going to miss that 'I wonder how the wedding will look' or 'I wonder what I'll have to do in the birth scene'. Hopefully, I will find that feeling in other projects."
But what will she not miss?
"Oh God, I will not miss having to be so ... perfect. I mean, these vampires are just so ... perfect. I won't miss the contact lenses, and I don't think anyone in the cast would disagree with me there. And the face paint! To look like marble, we just cake this stuff on. I'm not sure that panned out, and I am more than happy to leave that behind."
As for Pattinson, what will he miss the most?
"It's hard to say. There's something familiar and nice about returning to a set where you know everyone. At the same time, what's nice about acting on a movie is leaving everything behind and starting something new."
FIGURES TO GET YOUR TEETH INTO
The four previous Twilight movies haven't been a case of hit original and declining interest in the sequels. Here's how the series as fared at the international box office in the past four years:
Twilight (2008) U$S392.6 million (NZ$480.7 million)
The Twilight Saga: New Moon (2009) US$709.8 million
The Twilight Saga: Eclipse (2010) US$698.5 million
The Twilight Saga: Breaking Dawn Part 1 (2011) US$705.1 million
Source: Boxofficemjo.com
What the franchise stars are now worth:
Robert Pattinson US$60 million
Kristen Stewart US$55 million
Taylor Lautner US$40 million
Source: celebritynetworth.com
- TimeOut / additional reporting MCT