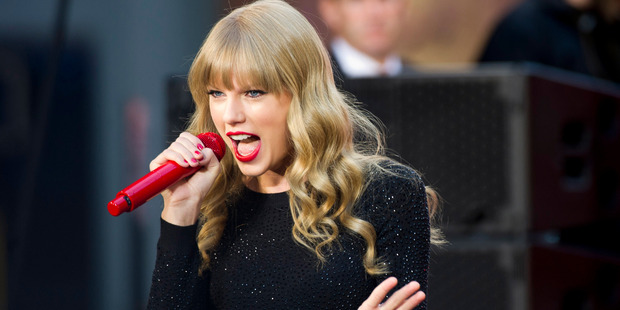 Take note, chaps: Taylor Swift is spelling out her relationship deal-breakers.
The 22-year-old singing sensation graces the cover of Cosmopolitan's December issue, and opens up about her love philosophy, and what she will not tolerate in a relationship.
"I can't deal with someone wanting to take a relationship backward or needing space or cheating on you," she tells the mag.
"It's a conscious thing; it's a common-sense thing. If I was in that situation, if I were them, would I be doing this to me? Would I ever do this to them? If the answer is no, then they're not treating me fairly. I just don't ever want to end up in a relationship that isn't fair ever again."
Swift's interview is promoted with a cover blurb that reads "Crazy for a Kennedy," which obviously dates her confab with the mag pre her recent split from Conor Kennedy.
The singer - who previously dated John Mayer, Taylor Lautner, Jake Gyllenhaal and Joe Jonas - quietly called it quits with Conor, who is the son of Robert F Kennedy Jr, within the past few weeks, Us Weekly reported last week.
"They quietly parted ways a while ago," a source told the mag. "It was just a distance thing. No hard feelings. They're fine."
A so-called 'insider' told Radar Online: "Conor's just an 18-year-old kid and wasn't ready for anything super serious, but Taylor is looking for her soulmate and it kind of freaked him out with how strong she came on.
"Taylor is obsessed with the Kennedys and was living out a fairytale with Conor. But she was more obsessed with the idea of dating a Kennedy, than the actual Kennedy she was dating."
'I'VE LEARNED WHEN TO GET OUT'
Swift, whose love life provides endless inspiration for her hit songs, also opens up to Cosmo about what she looks for in a guy.
"I need that unexplainable spark," she says. "I just need to see someone and feel oh, no, uh-oh. It's only happened a few times in my life, but I feel like if I was gonna be with someone forever, it would be because I saw them and I thought, Oh, no."
She also says she's learned from her past relationships.
"I've learned when to get out," she tells the mag. "I've never wasted too much time with the wrong person and that's one thing I'm proud of."
She added: "I've had a lot of dark and twisty situations happen, enough to realise that when someone exhibits signs of evoking a dark and twisty relationship and dark and twisty feelings, it's not interesting to me."
Swift also talks about her latest album Red, which sold a whopping 1.21 million copies in its first week of release in the US.
"I have a chalkboard in my house in LA, and every week, I've been writing a new lyric on it from the record just to figure out which ones pop out to me, which seem most important," she says.
"There's a song that's the first track on the record, and it says, 'Love is a ruthless game unless you play it good and right.' That's been my whole philosophy on love this whole time anyway. "
And as for her post-music plans...
"Being a mum full time, doing everything for my kids, having a bunch of them," she says of her future aspirations. "That's the only other thing that could be as thrilling for me as doing this."
Click on over to cosmopolitan.com for more interview snippets.
Check out the video for Swift's We Are Never Ever Getting Back Together here.
FAST GOSSIP
And finally...
* Kate Moss says split from Johnny Depp led to "years and years of crying".
* Game on again for Johnny Depp and Amber Heard?
* Secret squirrels: Evan Rachel Wood marries Billy Elliot star Jamie Bell.
* Awkward: Katy Perry and Russell Brand attend the same basketball match.
* BFF: Kanye West hugs it out with paparazzo.
* John Mayer called "king douche" by country singer Shooter Jennings in Twitter rant.
* Steven Tyler and fiancée Erin Brady shoot down reports of a split.
* Britney Spears and fiancé Jason Trawick on the skids? Not so fast...
* Robert Pattinson and Kristen Stewart to reunite for MTV interview?
* Megan Fox is a dolphin whisperer in new laptop ad.
Follow Myrddin Gwynedd on Twitter.
- Rumour Has It