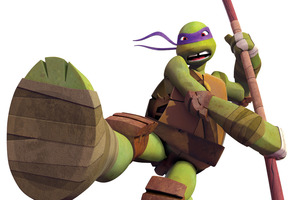 You may not have heard of American actor Rob Paulsen, but you've most likely heard him.
He's the voice behind hundreds of cartoon characters, from Boomer in The Powerpuff Girls and Pinky from Pinky And The Brain to Carl, Mr Wheezer and Butch in Jimmy Neutron.
He has spent more 2500 hours voicing more than 250 cartoon characters during three decades behind the microphone. He won an Emmy for Pinky And The Brain in 1999.
And now he's returning to the screens for his second stint as a Teenage Mutant Ninja Turtle (TMNT).
Originally he voiced Raphael for more than 190 episodes during the first series of the TMNT which started in the late '80s.
This time around Paulsen is providing some attitude for Donatello, the brains of the bunch, while Lord of the Rings actor Sean Astin has slipped into Raphael's shell.
Making up the quartet are American Pie star Jason Biggs as Leonardo and Teen Titans voiceover man Greg Cipes as Michelangelo.
Playing a Turtle the first time around provided Paulsen with some of his life's most satisfying moments.
Like the time his son Ashton, who is now in his late 20s, used to hustle him to speak with his school buddies over the telephone - but in character.
"What would happen is the phone would ring and my son would pick it up and say things like, 'He really is, no he really is, why would I lie about that? Dad, my buddy wants to talk to Raphael'," Paulsen said. "It's so great to be able to do something that your kid gets a kick out of."
Paulsen said he told the other voice cast members that their lives were about to change for their better and they would get a great amount of satisfaction in voicing one of the best known modern-day cartoons.
He said it was one of the driving forces behind wanting to be a ninja turtle again.

Kids TV preview
Who: Rob Paulsen, veteran cartoon character voice
What: Teenage Mutant Ninja Turtles, the new CG animation series
When and where: Starts 4.30pm today on Nickelodeon

- AAP