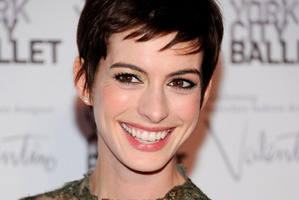 Valentino says he's finished a wedding dress for Anne Hathaway. Photo / AP
The media is on high alert for news about actress Anne Hathaway's nuptials after iconic designer Valentino Garavani revealed he has finished the gown she'll wear on her big day.
The Devil Wears Prada star is letting nothing slip about her upcoming wedding to Adam Shulman, but it appears it's not far off.
Valentino reveals he was asked to design her gown - and it's complete.
And the fashion king tells E! News he can't wait to see his "daughter" walk down the aisle.
"She's a very good friend of mine... She's like my daughter," he told the show.
"She's sensational. She's fantastic. She's a girl that... deserves what she has in this life.... She's already a great star. But she's going to be a great, great, great, great thousand times great star. She has all the qualities."
The designer refused to give out any information about the dress he has created for Hathaway.
- WENN