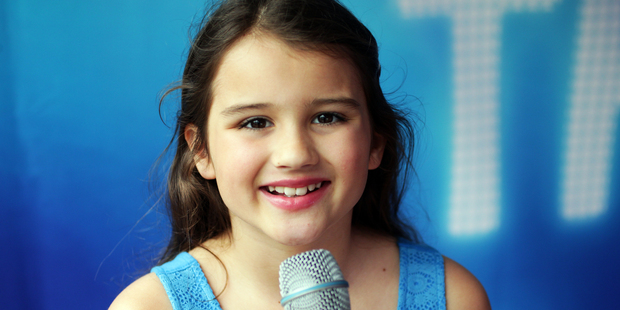 Determined songstress Holly Robertson arrived at dawn yesterday for her shot at a wildcard place on New Zealand's Got Talent in Auckland.
The nine-year-old belted out a powerful rendition of Taylor Swift's Sparks Fly at 10am and said the early start was worth being first in the queue.
"When I heard there was another chance to be on the show, I was like 'whoa, I have to do that'," she said.
The Head & Shoulders-sponsored wildcard allows the public to vote online for another performer to join the competition.
There is another opportunity next Saturday, at Northlands Shopping Centre in Christchurch, before voting for the top five starts via website. That runs until October 10. The judges then choose one winner.
Holly went up against hip hop dancer Finn Surgison, 10, who impressed the crowd with back-flips and Michael Jackson-style moves.
Proud mum Taryn Surgison said Finn taught himself to dance.
"He's just a natural. I'd love to get him lessons but we have a big family and simply couldn't afford it. He's done this all by himself. I think he's incredible," she said.
If they get to the show, the young hopefuls may compete against crowd favourite J-Geek and The Geeks, the group behind the Ghost Chips song which inspired an anti-drink driving campaign.
J-Geeks wowed the judges with their "Metro-Maori electro" dancing in the opening episode last week.
The group, led by former C4 star Jermaine Leef, are an experienced act who have received $20,000 of New Zealand on Air grants.
They are a YouTube sensation, with an international fan base including Lady Gaga, Justin Bieber and Hollywood blogger Perez Hilton.
The show's conditions state entrants should not have "previously entered into any commercial, contractual, sponsorship or other agreement", although the producer can override this rule at their discretion.
A TVNZ spokeswoman said NZGT has never been promoted as a show that pushes only new talent.
"The rules allow talent of all ages and ability to enter. The judges and viewers ultimately decide which act is the best."