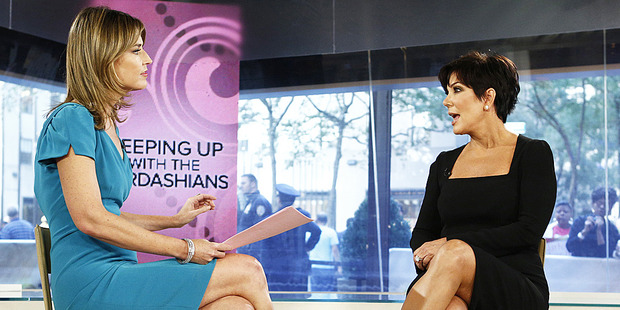 American broadcaster NBC is under fire for airing an interview with a reality television starlet about her boob job instead of screening a moment's silence for victims of the September 11 terrorist attack.
While rival networks carried footage from Ground Zero and the Pentagon at 8.46am - the time the first plane hit the World Trade Center 11 years ago - NBC's Today show aired an interview with Keeping Up With The Kardashians' Kris Jenner.
Jenner talked about her breast augmentation and her reasons for having cameras film the operation, which will air during the show's upcoming seventh season finale.
"I thought it was such a great idea to film that. The reason I went in and did that was because I had had my implants in for 152 years - you know, a long time, way longer than their shelf life," she was reported as telling the Today show.
ABC's Good Morning America, CBS show This Morning, CNN, Fox News Channel and MSNBC all aired a minute of silence to mark the occasion.
Feedback on Twitter was swift, with Tony Bruno (@TonyBrunoShow) saying: "Wow, just Wow. NBC should be ashamed beyond belief and ridiculed by ALL!"
Ruby Cramer (@rubycramer) declared: "Most awkward network split screen ever: NBC skips 9/11 moment of silence for Kardashian Interview."
NBC defended its decision, saying it aired other segments on Today about the September 11 terrorist attacks, including an interview with a World Trade Center survivor earlier in the show.
For its later West Coast feed, the network showed the commemoration of the first moment.
Ceremonies took place at the World Trade Center and the White House lawn.
In a similar gaffe during the London Olympics opening ceremony, NBC cut away from a tribute to the victims of the 2005 London bombings, instead airing a Ryan Searcrest interview.
- AP with nzherald.co.nz