Freddie Mercury becomes an Angry Bird in the 10 best links we can find on the web today.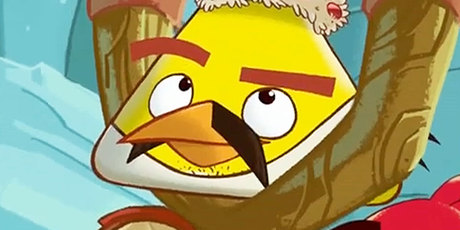 1. Freddie Mercury is becoming an Angry Bird. The late Queen front man, who would have celebrated his birthday tomorrow, is being honoured in a worldwide charity event called Freddie For a Day that involves fans dressing like Mercury - including outlandish costumes and fake moustaches. And to celebrate, the guys behind Angry Birds have turned him into one of their characters for a short film. Check out the trailer here. (YouTube)
2. Arnie's back and to celebrate, some dude with way too much time on his hands has compiled every memorable quote and one-liner from the actor's essential films into a 10-minute compedium, including such classics as, "You should not drink and bake" and, "Let's kick some ice". (YouTube)
3. If you've just finished the first eight-episode arc of Breaking Bad and you're feeling a little depressed about waiting till next year to see the finale, check out this funky remix of season one and two.
No spoilers, promise. (YouTube)
4. Ever wanted to see the cast of Mad Men performing Rick Astley's Never Gonna Give You Up? Today, friend, is your lucky day, coutesy of an amazing cut-and-paste job. (Facebook)
5. Another day, another hot Azealia Banks video, this time for her track 1991. As one YouTube user says, "Foxy Brown + Aaliyah = Azealia Banks". I'd probably throw MIA into the mix too. (Pitchfork)
6. George Lucas loves Seth Green and his Robot Chicken Star Wars spoofs so much he's let him do an entirely new animated show taking the piss out of his space opera series. Check out the trailer and several clips for Star Wars Detours here. (AV Club)
7. The House I Live In is a terrifying look at America's drug industry, something The Wire creator David Simon calls "a holocaust in slow motion". Check out the trailer here. (Apple)
8. The best song on Yeasayer's new album is Longevity, thanks to its falsetto vocals and throbbing dubstep lope. It's got a great vid now too with some creepy Benjamin Button-style ageing make-up, and you can check it out here. (YouTube)
9. If you only watch one NSFW video today, make it this one. In case you didn't read that, let me repeat: DO NOT WATCH THIS VIDEO AT WORK. (Pretty Much Amazing)
10. Yay! You made it to the end. Your reward is the Old Spice guy's new ad Muscle Music, in which he turns his body into a live instrument. Stick around till the end to make up your own tunes. (Vimeo)
Follow Chris Schulz on Twitter.
By Chris Schulz @chris__schulz

Email

Chris