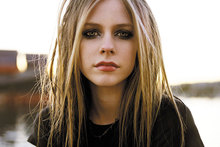 Chad Kroeger was "embarrassed" when he told his parents he was engaged to Avril Lavigne.
The Nickleback frontman, who proposed to the Canadian singer after a whirlwind romance, has not yet introduced his mother to his future wife, and became red-faced when he had to explain they were getting married because his mum is a big fan of her music.
He said: "You never know what your parents are going to say when you tell them you're getting married - especially when it's with someone they haven't met yet. My mom is a huge fan of avril's, so putting her on speakerphone and telling her the news was hilarious and equally embarrassing."
Lavigne, 27, has yet to even take 37-year-old Chad to her hometown, but he knows where she will take him when he does make it there.
He added: "I find [going back home] almost as terrifying as telling your parents you're going to tie the knot. You just never know when someone is going to come out of the woodwork with a story that's starts with, 'let me tell you about the time...'
"But I know she is dying to take me to la pizzeria to try her favourite pizza in the world."
-BANG! Showbiz