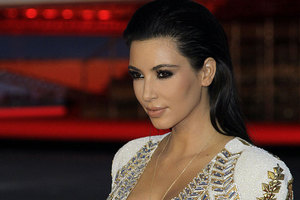 Reality TV starlet Kim Kardashian has branded her ex Kris Humphries a "cancer" she wants out of her life for good as their bitter divorce case proceeds.
The 31-year-old socialite is sick of dealing with the basketball player - who she dumped in October 2011 after just 72 days of marriage - and wants her divorce to go through quickly she can forget about their disastrous romance.
A court hearing took place on Wednesday as part of ongoing divorce proceedings between the former couple and afterwards Kardashian had some harsh words for Humphries, 27, afterwards.
According to sources, Kardashian said: "Kris is the first person I ever had to break-up with and that f***ed with my emotions."
Speaking about when the cracks started to appear in their relationship, according to TMZ.com, she added: "He told our producers he would destroy my career and me if the show wasn't edited right. He's a cancer."
Humphries has issued subpoenas to the TV star's current boyfriend Kanye West, Kardashian's mother and manager Kris Jenner, NBC Universal and Bunim/Murray - which produces the Kardashian reality shows - in a bid to prove the marriage, which took place in August 2011, was a fraudulent publicity stunt which Kim went ahead with to boost her career.
The sportsman is not ready to accept the brunette beauty's deposition until he has more information about the programme and is instead seeking a marriage annulment.
However, Kardashian is confident any TV footage evidence from Keeping Up with the Kardashians, including out-takes, will "backfire in his face" and will show Humphries as a "manipulative, vindictive, petty, fame-hungry jerk".
- Bang! Showbiz