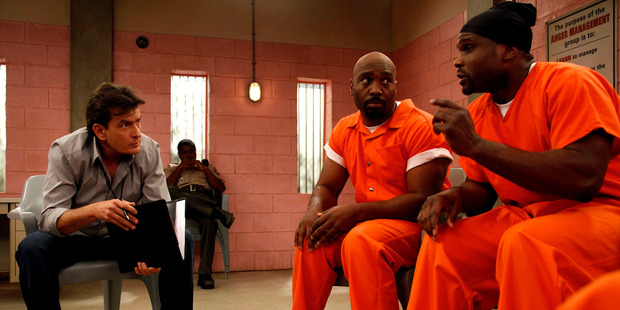 Pick of the week: Anger Management
After his infamous Two and a Half Men wig-out and his Torpedo of Truth tour, which suggested that unscripted stand-up comedy wasn't his forte, Charlie Sheen returns to the safety of sitcom land.
Anger Management may come from United States cable channel FX rather than Men's supposedly safer CBS, but it's hardly outlandish.
Loosely based on the 2003 Adam Sandler-Jack Nicholson movie, the series has been tailored to fit the Sheen persona - here he presents yet another version of the character he played as Charlie Crawford on Spin City and Charlie Harper on Men.
In Anger Management, he plays psychologist Charlie Goodson, a former pro baseball player who, in a fit of rage during a game, tries to break a bat across his leg and messes up his knee.
So, apparently, he's well qualified to become an anger-management therapist, trying to transform his clients - and himself - into less angry people.
This Charlie also has a 15-year-old daughter he adores, and a sassy ex-wife (Shawnee Smith) whose new boyfriend (Brian Austin Green) frequently annoys him. And as well as working for paying clients, he volunteers at a prison to work with inmates.
He's also got Kate (Selma Blair), a fellow therapist and friend-with-benefits. The series largely pivots on their relationship - should he be on her therapist couch as well as in her bed?
Meanwhile, when the last series of Hot In Cleveland left off, Elka (played by veteran actress Betty White) had done a runner after being found guilty of hiding stolen property. In the new season (Wednesday, 8pm, TV2), her three girl pals - Melanie (Valerie Bertinelli), Joy (Jane Leeves) and Victoria (Wendie Malick) - find her deep in the heart of Amish country.
While former soap star Victoria is converted to the wholesome ways of the locals, Joy is at the centre of a sex scandal involving the state governor and which could see her face deportation.
And to complete the Wednesday night TV2 slab of US sitcoms, at 9pm there's the start of the third series of Cougar Town. With Courtney Cox's Jules engaged to Grayson (Josh Hopkins) and much of the upcoming season spent on wedding plans, the show sure has shifted from its original title.
When: Wednesday, 8.30pm
Where: TV2
What: Charlie Sheen, back on script
Wine pick: Thirsty Work
There will be a bit of swilling. Even some spitting. But Yvonne Lorkin, New Zealand wine guru and presenter of this new wine show, promises no snobbery as she travels the country sampling some of our best wine, beer and cider and meeting the people who make it.
"I really wanted to create a show that encourages people to look beyond what's in their glass and connect with with what they're drinking on a personal level because there's a person, a family, and often quite a hard-case story behind that bottle that you've just opened," she says.
During the seven-part series, which is directed by Carolyn Sylvester (Maggie's Garden Show, Mucking In, Taste New Zealand), Lorkin travels from Hawkes Bay to the deep south, meeting winemakers, homebrewers and veteran cider makers Old Mout in Nelson.
When: Wednesday, 9.30pm
Where: Food TV
What: More than just a tipple
Drama pick: Grey's Anatomy
Heading into its eighth season, Grey's Anatomy is as dramatic as ever, picking up the pieces of the personal and professional lives of the Seattle Grace doctors that were pulled apart at the end of series seven.
Having unethically tampered with Derek's clinical trial for Alzheimer's, Meredith comes under fire professionally and personally. Derek can't trust her, and neither can the hospital, which leads to Richard firing Meredith, and to Zola's adoption counsellor becoming concerned about Derek and Meredith's relationship.
Meanwhile, April tries to step up to the plate as chief resident as many victims of a giant sinkhole are brought in. Tensions between Cristina and Owen continues to rise as they argue over her unplanned pregnancy and the possibility of parenthood.
When: Monday, 8.35pm
Where: TV2
What: The dramatic doctors are back
Drama pick: Private Practice
The doctors of Oceanside Wellness are battling to save Pete. Having had a heart attack at the end of the last season, his chance at life is none too certain as Sam, Amelia, Cooper and Charlotte try to save him.
Violet seems to have disappeared, with plans to leave Pete, and anger and anxiety do nothing to help his recovery.
Addison and Sam continue to muddle along in their relationship. However, Addison still desperately wants a baby and Sam doesn't see her point of view.
When handsome stranger Jake Reilly (played by Benjamin Bratt) turns up for a second time, things get a little complicated for Addison. That doesn't leave her much time to be concerned, with Amelia's continuing struggle to stay sober, but Sheldon does his best to help.
When: Monday, 9.35pm
Where: TV2
What: Keeping the patients and the doctors alive
Reality picks: Deadliest Catch and Bering Sea Gold
There's more drama, danger and shenanigans on the icy cold seas as the new crabbing season starts for the skippers and their crews on the boats of the Deadliest Catch.
It's now in its eighth season but this year is different because a slashed quota in the treacherous Bering Sea means the fleet will have to fight it out for half the usual catch. Skippers must decide whether to stick to the depleted grounds or risk it all and hunt for the blue crab.
Also making a living - and dreaming of a fortune - out of the Bering Sea are the gold diggers based in the frontier town of Nome, Alaska. Bering Sea Gold follows these hearty souls as they dive to the ocean floor in search of gold.
Deadliest Catch
When: Wednesday, 7.30pm
Where: Discovery
What: Where have all the crabs gone?
Bering Sea Gold
When: Wednesday, 8.30pm
Where: Discovery
What: Diving for gold
- TimeOut