Lydia Jenkin talks to Sola Rosa's Andrew Spraggon about the hectic life of touring and (recording).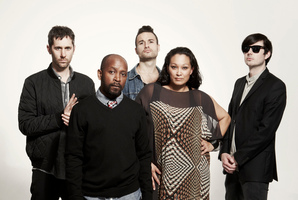 Reaching out to shake the hand of Sola Rosa's main man Andrew Spraggon in greeting, it's hard not to notice he's wearing a hand and arm brace. That's not a great sign for anyone, particularly not a musician.
About to release their fifth studio studio album Low and Behold, High and Beyond, Sola Rosa have been on a 10-date tour in North America, so a tour-related injury seems like a possibility. But no, in fact Spraggon had hand surgery three months ago and though his hand has healed, his arm's been causing some problems. They already had the tour booked though, so he just had to put the brace on and plunge ahead.
"I was supposed to be all good by the time the tour started, but I think touring has made it worse. Just constant lifting of equipment and playing every day. It was too hot over there to wear a cast all the time, so I'd just take it off," he smiles wryly.
Over the past couple of years, Spraggon has been balancing Sola Rosa's busy touring schedule with the creation of the new album - another release chock-full of energetic summery grooves, underpinned by hip-hop, nu-soul and funk, which meant it took a little longer to finish than Spraggon wanted.
"I set out to do this one faster and I had a plan. I executed that plan quite well, but when it comes to all the final tweaks and touches, I take ages. And this is the first album I didn't mix myself, but I still fluff around. I'm a certified perfectionist. I guess if I wasn't, the albums wouldn't be as good, but in other aspects of your life, perfectionism is a hindrance, because it doesn't just adhere to music, it permeates everything."
It clearly doesn't stop him from working well with others though - and not just his four-piece band, but the wide array of vocalists who feature on the album. Only two of the 12 tracks don't feature a guest vocalist and there are five different contributors but Spraggon still achieves a distinctive Sola Rosa sound while letting their vocals come freely.
"[When it comes to vocalists] I am really really fussy. They have to be able to sing well, but also lyrically they have to be story-tellers, or at least clever in their ability to communicate what they want to communicate. Boring and bland lyrics really do nothing for me. Same with hip-hop and rapping. So whatever it is, for me they need to be good singers and good lyric writers."
He's not interested in picking people who's names will generate extra attention though, he's more interested in working with vocalists who inspire him.
"There's a lot of good singers out there, people just don't know about them. Olivier Daysoul for example - he's collaborated with a lot of people, and he's one of the most amazing singers, but for some reason he hasn't hit that threshold."
Talented local R'n'B singer Lauren Mitchell and usual Sola Rosa collaborator Spikey Tee are among the featured vocalists, contributing to the vibrant, celebratory ambience of the album.
"It's funny. I set out to make this album quite ballsy and aggressive, and it hasn't really turned out like that. It's quite mellow in a lot of ways, but I guess the beats are getting heavier and stuff like that. It's electronica and hip-hop ... to me it's more hip-hop-orientated than anything else, but still nu-soul and nu-funk. Q-Tip's album The Renaissance, that was a big influence, I thrashed that album while I was making this. And The Roots, their last two albums. I like really instrumental hip-hop, and rappers who can also sing or who bring people on to sing choruses."
Whatever you want to label it, Spraggon's blend of styles is being noticed. Sola Rosa have successfully gone international, releasing previous album Get It Together in Europe and North America, having their tracks licenced to various compilations, placed in television soundtracks and ads (Turnaround, on which rising star Iva Lamkum featured got particular attention), and touring for several months. And it's about to happen all over again for the release of Low and Behold.
"We'll spend two weeks touring New Zealand and then we go to Australia. We come back here briefly and then we go to Europe, the United States and Canada, we come back for summer shows here, and then we go back to Australia, the US and Canada again."
This kind of touring comes with sacrifices - Spraggon has two small children and a girlfriend to leave behind - but they've been working towards this kind of overseas establishment for around 12 years, and it's not easy to pull off.
"The difference now is that we've got a manager [Janette Searle] who's hooked up agencies and publicists and external management, and she's puppeteering it all, and making it work. It doesn't just happen. You need some insane maniac who can be constantly planning and doing financial forecasting to make it work. But as long as we can keep touring and it's working, we have to work at it. You either go for it or you don't."
Who: Sola Rosa
What: Fifth studio album Low and Behold, High and Beyond
Where and when: They play their album release show in Auckland on Friday, August 10, before setting off on eight further dates around New Zealand
- TimeOut