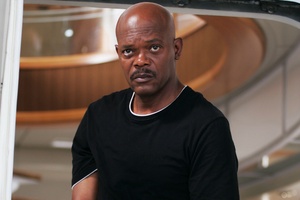 There isn't a snake in sight, but Samuel L. Jackson is taking control of commentating at the London Olympic Games.
Twitter has caused a lot of trouble at the Olympics so far, but Jackson is using it as a platform for his hilarious and overtly enthusiastic commentary.
The actor's tweets have even prompted some followers to call for NBC to hire him as an official commentator.
Here are some recent highlights from his Twitter feed:
"Can't imagine what kinda F***in' up musta been goin' on for Russia to win Silver! Gotta be A** Busting' worthy of our amusement!!"
"DREAM REALISED!!!!! US Gymnastic GOLD!! Strong performances! Pressure makes DIAMONDS!!! Go USA!"
"Okay, that was Drunk Lady Staggering Flip dismount! Made famous by many girls missing the top step in da club!"
"Got past the True Hardness! That BEAM's a BEEYOTCH!! Les' get ta TUMBLIN'! Go USA!!!"
"GURL GUNZ!! These lil' chick weightlifters are AHHF**YYNMAZEN!!"
"Awwwright!!! We bout to get some fairer sex IRON RAISIN'!"
"Whattup?! Just watched US get BADMUHFOUGHCCENMINTON beatdown fron So ko!"
Viewers have been immensely frustrated with NBC's coverage of the Olympics.
While some subscribers can watch the events live online, TV viewers have to wait hours before broadcasts at prime-time.
Complaining that in this digital age it is impossible to stay ignorant of the results in advance, viewers expressed disbelief when NBC News made matters worse by reporting who had won the men's 400 metre individual medley final ahead of the broadcast.
- Herald Online