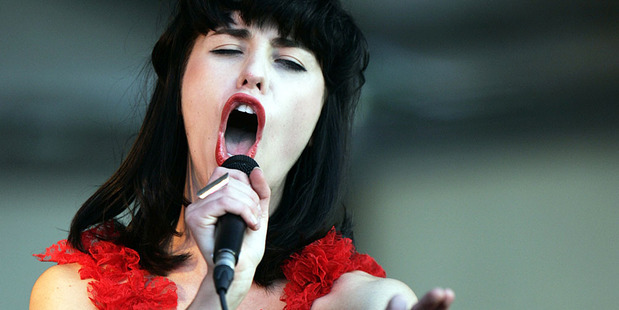 It may have been a giant "re-orientation" party for Auckland University students, but it was also open to the public, and for many it was a rare chance to see rising international pop star Kimbra live.
With Vector Arena in a more intimate set-up - about two thirds of its regular size - and Ruby Frost and The Black Seeds having worked the crowd into party mode, the atmosphere was warm and welcoming by the time the Hamilton-born singer took the stage with her four-piece band (all Kiwi lads except one, "and he's okay" she joked).
In an eye-catching, multi-coloured skirt that flew around her shimmying hips, and impressive stage production including five large video screens, Kimbra was every inch a star.
She's got a quirky dance style, and a highly theatrical and physical delivery, which is certainly attention-grabbing, even if it does make her gasp for breath during her between-song banter (in her bemusing half-American accent).
It's a rare performer who can fling herself around with such fervour, and still deliver a convincing vocal performance, but Kimbra conquered the stage in a way that Beyonce or MIA might, all vocal acrobatics and fierce attitude.
There was only enough time for nine tracks in her set, but that proved ample enough for her to show off a range of styles.
Opening with Limbo - a skittering, scattering, Dirty Projectors-esque number, which is more arty than melodic, she had the audience impressed, if perhaps a little confused. There would've been some expecting to hear a more mainstream sounding pop act, reflected in her singles like Cameo Lover (which she did play near the end), or her appearance in Gotye's Somebody That I Used To Know.
But Kimbra is more than just a regular pop diva - she's got amazing vocal talent, but she wants to do more than simply sing. Her songs are musically and vocally complex, drawing from a wide-range of influences (Bjork and Prince among them), which makes it hard for the audience to sing along.
Sometimes that complexity is exciting (as on recent single Good Intent, or on the funky, R&B type track Call Me), but sometimes in a live setting it can also be aurally overwhelming, especially with her band going at full tilt.
She's at her best and brightest when the arrangements are more stripped back, as on the brilliant new version of Settle Down, and her performance of collaborative track Warrior really connected with the audience too.
She's undeniably talented, with great vocal ability, exciting performance skills, and strong songs. The arrangements might just need some tweaking for the larger venues to really bond with her audience.
Kimbra
Where: Vector Arena, Auckland
When: Saturday, July 28