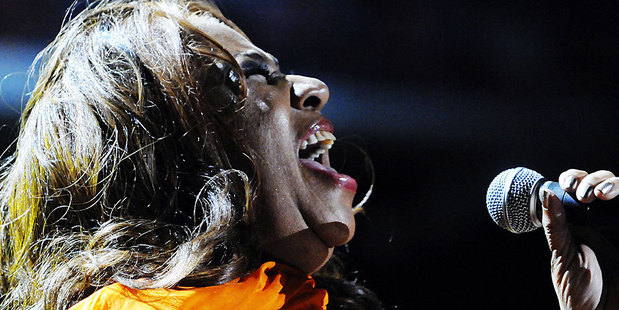 Now that Steven Tyler and Jennifer Lopez have officially bailed on American Idol, speculation is rife over which stars should replace the former judges.
Everyone from Katy Perry, Miley Cyrus and Nicki Minaj to former Idol contestant Adam Lambert are rumoured to be in talks to join the TV talent show.
Oh, and you can also add Charlie Sheen to the list of interested candidates.
Last week the net was abuzz with rumours that the Anger Management star had expressed an interest in appearing as a judge.
Idol producer Nigel Lythgoe fuelled the reports when he quipped to webloid TMZ that he would push for Sheen - and Jerry Lewis - to join the show.
In an interview with Ryan Seacrest on his KIIS-FM radio show on Monday, Sheen said he is "genuinely interested" in the gig, adding that he was intrigued by Lythgoe's 'offer'.
"It kind of came out of nowhere and I responded with a quote, just to sort of check the temperature of it or test the waters. Haven't heard anything back," Sheen explained. "I guess it got some people curious.
"It seems so out of the blue that it almost made perfect sense. I thought this could be a lot of fun. Seriously...I'm genuinely interested. It's so different, it could be radical."
When Seacrest asked Sheen if he'd be any good at giving feedback to contestants, he responded, "Oh yeah, absolutely! And being very honest but not, like, creating any suicidal moments, you know?"
Appearing on The Tonight Show with Jay Leno later that night, Sheen added that his participation would hinge on his Anger Management team at the FX network giving their approval.
'They are in serious talks...'
But another big name continues to be touted as a potential replacement: Mariah Carey.
Late last week, shortly after Tyler and Lopez announced their exits, a source told Us Weekly that Carey is among the names being pursued to join Randy Jackson on the Idol panel.
"They are in serious talks with Mariah and it's very close to being a done deal," said the insider, adding that should she sign up, Jackson would likely transition to a mentoring role rather than a judge on the Fox show.
"She's in play," another insider told People.com. "They are in serious talks."
An anonymous source also confirmed to the Associated Press that Carey's name has been touted as a potential new judge.
But if Idol bosses want to snag the 42-year-old Butterfly songbird, they'll need very deep pockets and some serious smackaroos, according to Carey's hubby, Nick Cannon.
"Everybody wants to talk to her," the America's Got Talent host told TMZ. "I don't know if they can afford Mariah Carey. That's a lot of money," he said.
Exactly how much money are we talking here?
"I mean they gave J.Lo $20 million, they might have to double that!" he quipped.
Asked if she was in negotiations for the show, Cannon replied: "I don't know! I'm not her manager, I'm her husband. I mean, you never know. It's one of those things where she's got an album coming out, so it's promotion."
But with Idol producers reportedly looking to downsize the show significantly for season 12, cutting budgets, staff and salaries, coughing up for Carey's hefty price tag might be a bit of a stretch.
E! News correspondent Jason Kennedy agrees.
"They're low-balling all the judges right now," he told US TV show Today. "They're not giving them the lucrative contracts. The show has struggled a little bit in the ratings, (but) it's still No. 1... but can they afford someone like a Mariah Carey?"
Meanwhile, step aside J.Lo, and make room for the Queen of Soul.
According to the latest buzz, Aretha Franklin might just step in and save the day on the show.
TMZ claims that the 70-year-old music idol emailed CNN over the weekend and volunteered her judging services to join Idol.
Asked about a future role in the singing competition, she replied: "Yes, I am interested as a judge".
One of the legendary singer's pals chimed to the New York Daily News: "She would love that gig. It pays millions of dollars and she could stay put [in one place] for a few months to do it."
Franklin also mentioned American Idol in an interview with the Las Vegas Sun last week.
"I still haven't been on American Idol or The Voice. I'd love to be a mentor.
"It seems that each time I come to the West Coast, they're just going on vacation, so we can never get to do anything together. I come West at a certain time of year, and when I like to come is when they're going. That's happened at least two or three times now," said the singer.
The snag? Franklin has a phobia of flying, which would make traveling state to state during the show's audition stages a tad problematic.
Fox, and its producers, Freemantle Media, have yet to respond to Franklin's offer.
Lopez announced her departure from the show at the end of last week, telling Idol host Ryan Seacrest in a radio interview that her decision came at the end of "a really long thought process".
Lopez said, "It's been a long process ... I've really been torn. Something has to give.
"The time has come for me to get back to the other things that I do. We had an amazing run."
Aerosmith frontman Tyler announced his departure on Friday.
"I strayed from my first love, Aerosmith, and I'm back," he said in a statement.
"I've decided it's time for me to let go of my mistress 'American Idol' before she boils my rabbit," Tyler added, in a reference to the movie, Fatal Attraction.
"I got two fists in the air, and I'm kicking the door open with my band."
Stay tuned for updates ...
- Blogger Bites Back