Scott Kara talks to comic multi-instrumentalist Bill Bailey about coping with the horn versions of heavy metal and what to expect from his upcoming tour Downunder.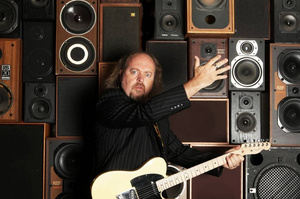 Bill Bailey has a special heavy metal treat in store for New Zealand audiences when he tours here later in the year. The British musician and comedian, who could pass for a veteran metaller himself with his scruffy, straw-like balding hair, will attempt to play Angel of Death by Californian metal pioneers Slayer on his horn set, known affectionately as Horntallica - an assortment of around 25 horns on a stand arranged similar to a xylophone.
The thing is, he's not too sure if it is going to be possible to play the frantic and brutal opening track off the band's 1986 classic Reign In Blood.
"Hornslayer," he says, "now that would be a challenge. That is the next level of horn playing. You couldn't play Slayer as one person. I think it might be in the realm of needing to do a [horn] duet," he laughs.
"I don't think that's possible on the horns. But I'll have a bloody good go if that's what you want. Okay then, when I come to New Zealand I will try Angel of Death by Slayer on the horns. There you go - I've thrown down the gauntlet."
Bailey is no stranger to Slayer, having done musical impressions of them during his comedy shows. He doesn't really take the mickey out of the band as he shrieks, shreds and lolls his neck around with wild abandon; it's more about having a laugh, because heavy metal is fun.
His most famous work on the horns is his rendition of Metallica's Enter Sandman, which he performed during rehearsals for heavy metal festival Sonisphere in Britain (you can see it on YouTube).
A year on from Sonisphere, where he played for 65,000 hard and heavy music fans, on the same bill as Slayer and Metallica, among many others, he still sounds chuffed to have been asked to play. Though he never found out what Lars Urlich and James Hetfield thought of his version of the song.
"They probably thought I was making fun of them. But it was done as an affectionate tribute. It's a new take on what's become a standard in the canon of metal and it's a robust enough song to stand up to all sorts of different interpretations."
Bailey, who has also starred in TV shows Black Books and Jonathan Creek, as well as showing up in British drama Skins and in last year's Doctor Who Christmas Special, in which he played a "futuristic forest worker", returns to New Zealand in October with his new show, Qualmpeddler.
It's a more intense and gritty musical and multimedia show compared with the surreal whimsy of Tinselworm, which New Zealand audiences saw in 2008.
"It's quite a dense show. There are a lot of threads and ideas running through it," he says. These range from the chaotic state of his homeland, material inspired by a visit to China and his anxiety about the state of the world. There is an edge to what's going on, certainly in Britain, and around the world generally people are feeling it after the financial meltdown and in Britain there have been political scandals, newspaper scandals, police scandals - one after the other.
"People are sensing that perhaps it is the end of days, like the Mayans predicted. Perhaps they were right," he jokes.
"But there is a tension and edge and that is reflected in the audiences because now, more than ever, people want to laugh and be taken out of themselves. So this show is a response to that. It is more intense and there is more in it."
There is also a strong film element to Qualmpeddler and Bailey looks at it as another way of telling a joke with the visual element, almost like the punchline.
"You know, you set up a joke verbally, which is a standard form, but then the pay-off is in a visual form and so it's got a nice cross-media connection to it. And I think that's quite pleasing from a show perspective."
And rest assured, as well as bringing his trusty bouzouki, horn set and electric guitar with him, he will have some new instruments in tow.
"I've got lots of new music and lots of new instruments," he says in his polite mumble, including one he can't wait to let loose with when he's here.
"I've just been practising it, as we speak," he says, strummings a few chords in the background. However, he's not letting on what the instrument is because "divulging the name would take away the fun of trying to get the audience to guess what it is".
"You strum it. It's small, but a rather attractive shape. And it's very tricky to play. It's something an old-fashioned jester might play or an old-fashioned entertainer."
And when he's not touring the world doing his comedy show, Bailey is a busy man with many projects on the go. He's off to Borneo to film a documentary about British naturalist and explorer Alfred Wallace ("a contemporary of Charles Darwin"), which has been a long-term project of his. He's also looking at another instalment of his A Remarkable Guide To The Orchestra from 2008, a concert at London's Royal Albert Hall, which portrayed Bailey's unique and hilarious take on the sounds and instruments of the orchestra.
He also has another typically madcap musical idea where he wants to map certain cities from around the world and "play their skylines".
Though you get the feeling even he is still figuring out just what, exactly, that one will entail. "So there are a few grand projects that have been bubbling away. I'm up to my eyeballs really."
Who: British comedian and musician Bill Bailey.
What: Qualmpeddler.
Where & when: ASB Theatre, Auckland, October 3-4.
-TimeOut