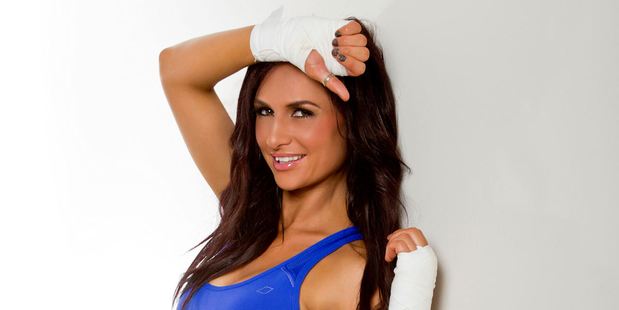 Boxing stalwarts are slamming the "battle of the babes" bout between Jaime Ridge and Rosanna Arkle for "ruining the sport".
Ridge and Arkle will slug it out on the undercard for Thursday's KFC Godfather of All Fight Nights promoted by Dean Lonergan's Duco Events. The main event is a showdown between heavyweights Shane Cameron and Monte Barrett.
The two women are boxing newcomers and have attracted much attention, particularly since Arkle asked punters to vote for which bikini she should wear in the ring.
Arkle has also complained about the weight difference, saying Ridge has failed to drop to a fair fighting weight.
"It's a joke," said Cameron's manager Ken Reinsfield, who described himself as a "boxing purist". "I'm all for women's boxing but I'm not about turning it into some sort of sideshow."
He said there were plenty of professional female boxers eager to fight on such an undercard. "Instead we're putting on a couple of girls for skin glamour."
He said proper boxers wore proper gear. "What is this, a boxing match or a peep show?"
Allowing boxers to wear bikinis disrespected boxing and disrespected women.
"People die in the boxing ring. It's a very, very hard, tough professional game and what do I think of a couple of girls dancing around in bikinis? Put it on a Fight for Life charity event, in a circus event."
New Zealand Professional Boxing Association president Lance Revill said he would be the official for the Ridge vs Arkle fight.
"I didn't want to but I'm picking it's going to get out of hand so I'm reffing the fight. I don't want no tarty shabby affair. I was against it. I told Deano, 'You're ruining the sport of boxing. You're making a mockery out of the sport by putting these two on'."
Women didn't have to wear a groin guard so they were free to wear bikini bottoms if they wished but breast protection was strongly advised.
"If [Arkle] wants to wear a bikini top she's going to have to wear the cups inside." If not, she would have to sign an injury waiver, but Revill didn't believe the match doctor would allow that. He said Lonergan had put on some fantastic shows, but he felt he needed to be more choosy.
"A lot of people will enjoy seeing Jaime Ridge fighting a bird in a bikini. It will be a thrill for them. But it won't be a thrill for me at all."
Lonergan said the women chose their own clothing and he felt protectors could be modified to fit a bikini. He expected Ridge to wear more traditional boxing attire.
He made no apologies for selecting Ridge and Arkle as there was more interest from the public and media in "the celebrity side of things".
"We're in the business of entertainment, not pure sport," Lonergan said. "Our job is to get as much exposure as we can for the boxing card and the sponsors and that's the way we do it."
Tickets sold out a month ago for the 800-seat event at SkyCity in Auckland.