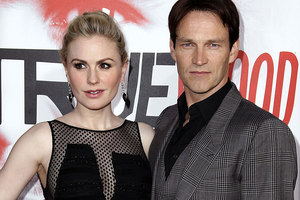 Kiwi actress Anna Paquin is expecting twins with her True Blood co-star Stephen Moyer, according to reports.
Us Weekly reports the 29-year-old actress is expecting twins when she's due to give birth later in the year.
The couple's True Blood co-star Sam Trammell, who plays bar owner Sam Merlotte and has 11-month-old twins himself, said he was "excited" for them.
"We sent them a special gift. It's so interesting that True Blood has become, like, the 'twins' show," he told Us Weekly.
"It's harder, having twins, but it's all we know. So we're trying to impart some decent wisdom ... I told them to hold on tight!"
The couple announced the pregnancy in April.
Paquin's expanding baby bump apparently caused problems for the show's writers because they were trying to conceal her pregnancy.
Creator Alan Ball explained: "So, in the last few episodes, Sookie's holding a big purse in front of her at all times.
"I actually heard from the costume designer about midway through the season, she went, 'Sookie can't wear a Merlotte's [restaurant] T-shirt anymore.'
"And I went, 'Well, it's a good thing Sookie isn't really at Merlotte's anymore, she's basically trying to save the world.'
"So, we'll put her in loose-fitting, save the world outfits."
Moyer, who has children Billy, 12 and Lilac, 10 from previous relationships, recently joked Paquin being pregnant brings the "crazy" to his already extended family.
He said: "I love my kids so much. And I think the fact that Anna is pregnant just adds more crazy to the bundle of fun."
Season five of True Blood began recently on Prime on Thursday nights.
- Herald online with Bang! Showbiz