Hilarious, quite often bloody, and always clever - that sums up the top 13 films in this year's V48 Hours Furious Filmmaking competition. Scott Kara takes a look at them ahead of this weekend's grand final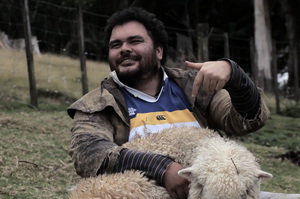 Brothers
Team: ADHDMi
This fantasy adventure film tells the story of Frank and Nicky Brick and uses still portraits and landscapes, but with subtle yet ingenious bits of movement (like red wine swilling unnervingly in glasses). It's disturbing, right from the single, abrasive guitar riff of the soundtrack to the brothers feasting on a buffet of pine cones, branches and sticks. Brilliantly grim stuff.
Kids These Days
Team: Gin Joints
Continuing the theme of brazen brutality and bloodletting, this is a crime escapade about two blokes who have someone stashed in their car boot. This film proves the tyre iron can be one of the world's most lethal weapons, especially when the little nipper in the boot - just wait until you meet him - lets loose with it. Ouch.
Brains?
Team: Noise and Pictures
In this horror movie reversal, four zombies are having a dinner party - with a yummy wine and food match of brains and spinal fluid - and come under attack from a bunch of scary humans. So, having just finished licking their plates clean, the poor zombies are forced to flee their home. For those who can't understand zombie, this film comes with subtitles.
An Inconvenient Hoof
Team: Picton Pictures
Using cut-out shadow puppets, this devilishly wry film from Christchurch team Picton Pictures is based around two seahorses and the destruction of their reef. We also meet knowledgeable yet slightly sleazy Dave the octopus, to whom the seahorses go for advice on how to "kill" the oil rig that threatens their home. It's a tearjerker that's funny.
Love in Decay
Team: Mukpuddy
This animated rom-com, about a burgeoning love affair between a zombie rubbish collector and his potential suitor, recalls Ren and Stimpy with its adorably grotesque look and mood. With lines like "he's got a face like a rotten mango" and the most disturbing pash you're ever likely to see, this sweet tale will make you crawl, laugh and go "aw" all in one.
Wiz-nap
Team: Voltron & Holograms
A disgruntled wizard from Avondale kidnaps a princess - turns out she's the wrong one - in protest at being snubbed by Winz (the Wizard Institute of New Zealand). It's a sweet, finding love story best summed up by the princess' cute plea for help: "I'm being held captive by a bad wizard. Not bad as in evil, but bad as in not very good at anything."
Glow
Team: Del Sur
This gripping film may be in the "inspirational" genre but it's not some fluffy feelgood story. It's about a man who, due to tragic circumstances, has to overcome his anger and grief in order to carry on with his life. Glow is intensely sad but uplifting in a very lovely way.
Dead Lucky
Team: Tuff Collective
A musical done in stop-motion style and, though it has a beautifully naive kindergarten collage look to it, there is no denying the cleverness. And like all good musicals there is song after song, from amateur theatre serenades to Nick Cave-style narration-singing and a big flower power pop finale.
Seed
Team: The Downlowconcept
The producers of 7 Days and Hounds have come up with a snappy, end-of-days hoot about what happens when you think you are the last two people on Earth and someone else turns up. In this case it's spoon-playing "brown man" Moose who comes calling on Nicky and a girl called Sam at their rural property.
Briefcase of Pain
Team: Battlesoup
A crime caper featuring a slightly camp but somehow heavy drug boss known as Mr Pain and accident-prone Nicky Brick, who ends up with mini chess pieces embedded in his face. This manic, mad film also features a clever car versus human collision, lots of drugs and a big explosion.
The Girl with the Clover Tattoo
Team: Lense Flare
This clever and perfectly conceived film is set in one house and moves backwards and forwards seamlessly - all in one shot - between a wild party and the morning after. There is also fireworks, foul-mouthed, laddish behaviour and the mystery death of one of the partygoers.
Daylight Robbery
Team: Goodfellas
One of the three "One Shot" films in this year's competition, this art heist set in a small Pacific Island-style gallery starts off seemingly conventional and mundane. But then the pace picks up and with it the hilarity as two art thiefs - one bumbling, the other crafty - go about their work.
Hannah Repus
Team: The Outwits
You can see why Peter Jackson selected this inspired one-shot film as a wildcard entry. The Outwits team use clever tricks to go back in time, while still keeping within the one-shot parameters, and the oddball story about what superheroes do on their day off makes it a standout this year.
What: V48 Hours grand final
Where: Civic, Saturday, 8pm
Tickets: $20 at the-edge.co.nz
Also: nzherald.co.nz will be streaming the V48Hours Grand National Final live from the Civic Theatre on Saturday night. For more information click here.
- TimeOut