Family Guy creator Seth MacFarlane is no stranger to animated obscenity. This time it's on the big screen with a soft toy called Ted who proves a hindrance to his owner's love life. Michele Manelis writes.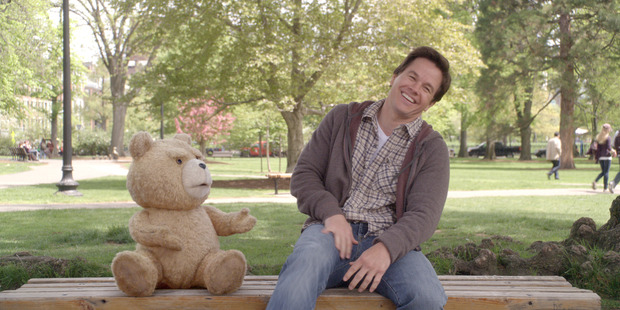 Seth MacFarlane - best known as the creator of animated TV series Family Guy and offshoot shows such as American Dad! - is turning his twisted comedic mind to the big screen for the first time.
And what he's come up with is Ted, the story of a young boy whose wish comes true when his teddy bear (voiced by MacFarlane who also directs and co-wrote the script) comes to life.
They grow up together and 25 years later, the boy, John Bennett who is now in his 30s (played by Mark Walhberg), finds his furry friend has become the obstacle in his relationship with girlfriend Lori (Mila Kunis).
MacFarlane, whose multi-faceted career includes being a voice actor, singer, animator, director and producer, says he first started thinking about doing a feature film five years ago. Due to budget constraints and other issues it's taken until now to get off the ground, but it was a natural progression.
"I originally conceived Ted as an animated idea because I was used to working with talking animals," he says. "I shelved it for a number of reasons. When I decided it was time to make my first movie, I dusted it off and thought it was a great character story."
In hindsight, it was also serendipitous that the movie wasn't made earlier. "Technology has come to the point where we can now do this in a way that makes it really believable, that this bear actually exists," he says. "Since Lord of the Rings and Avatar, Peter Jackson and James Cameron have really perfected that technology and it's been used in a lot of action and adventure movies, but no one has really used it in a character comedy. That was exciting to me.
"I like the idea of animated characters that are treated in a very casual or mundane way that can behave with the same gestures and the same emotive expressions as any live actor. And it was only with that motion capture technology could you do that for Ted."
Although the story is heavy on formula and predictability, it's equally balanced on humour. Ted is opinionated and uses off-colour language, however, his predilection for strippers, drugs, and alcohol, encased in the body of a cuddly stuffed animal makes his bad boy behaviour acceptable to those around him.
"Ted gets away with what he gets away with because he's cute and small and he can't really hurt anybody. But if Ted were saying those same lines as a man, it probably wouldn't be as effective," he says.
The affable MacFarlane was born in Massachusetts. His father was a schoolteacher, and mother worked in the admissions office at the same college. The word precocious doesn't come near to describing his childhood years.
At the age of two, he began drawing cartoon characters, and by five, so the story goes, he'd decided upon a career in animation.
By age nine, he maintained a weekly comic strip for the local newspaper which served as a platform for his controversial satire. He later studied film and animation at the Rhode Island School of Design. Shortly after, was hired by Hanna-Barbera animation studios.
"I was one of those kids who was very anxious to get the hell done with childhood. I knew what I wanted to do from a very young age, and I found that I was frustrated having to wait for a childhood and adolescence to get over with, so that I could get to the fun stuff," he says.
"And the irony of that is that once I got into this career it became really clear to me: 'Oh, you do have to hold on to some semblance of your childhood because you are making cartoons and talking bears and fantastical stories'. You do have to keep that sense of imagination alive that you have when you are a kid."
Which is what he's done with Ted. And though the teddy is the eponymous star of the movie, it's Wahlberg's talent that shines in making his straight-man role look effortless.
"When I read the script I knew that it would only work if I believed Ted was real," says Wahlberg.
"It was one of those things that was always in the back of my mind: is it going to work when they finally put the bear into the shots? Is it going to seem and look like we were in the same universe at the same time?"
As for 28-year-old Kunis, the voice of Meg Griffin in Family Guy for 13 years, she says "it wasn't as difficult for me to act with something that wasn't there. Mark really had to rough it because he had physical interactions with the bear and had to fight with it.
"For me, I have conversations with Ted and I walk next to him, but Seth always spoke to us as the bear to make it easier."
Though it comes with an R rating, MacFarlane refined the tone of the film during the making of it.
"The challenge is to not take advantage of the R rating. You have to police yourself in a way, so you don't do something just because you can. Initially, Ted was cursing too much and we had to pull it back because it was affecting the sweet undertones. We did want this to be a story with heart, and visually it was challenging because you've got to be careful, especially with the eyes.
"It's so easy for a character like Ted to look creepy and scary and just a little too human if you're not careful. But we landed on what we hope is a balance."
What: Ted, in cinemas July 6
Who: Director and star Seth MacFarlane.
-TimeOut